Granville Island presents the 12th Winterruption Festival from February 17-19, 2017. This mid-winter celebration of Vancouver culture and arts features live music, theatre, dance and street performance plus art, film, crafts, family activities and, of course, great food!
Winterruption Festival on Granville Island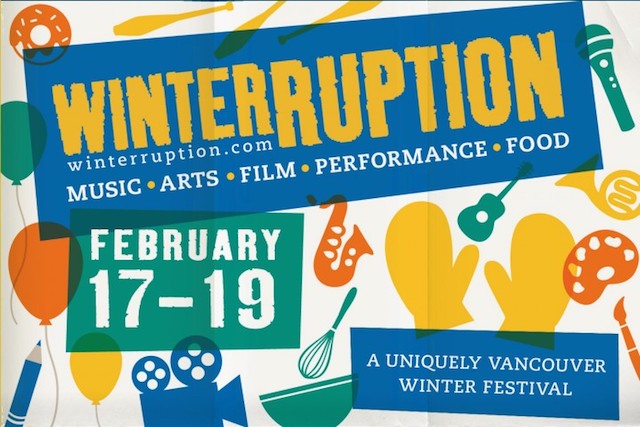 Stay warm and dry, and join the fun at The Forge (1596 Johnston St), Winterruption's new centre of activity. The festival brings together live performance and interactive art all in one big, happening location.
Watch as artist Ola Volo's whimsical mural emerges before your eyes. Enjoy the Rup Loops musical experience, the cool jazz of Black Gardenia, the old-time sounds of The Myrtle Family Band and the 'greasy' jazz of Rossi Gang. Savour some maple syrup, taste the fare at the Rebel Kitchen, and join an ongoing collaborative art project where festival participants construct a life-size urban landscape inspired by Granville Island.
Event Highlights
Pop Up Dances – eight amazing dancers show us what happens when architecture, industry and performance intersect at surprising locations around the Island.
The Pajama Men blend stand-up, sketch, improv, and outlandish characters to tell delightfully divergent stories in their production of Pterodactyl Nights, presented by The Fringe Festival.
Ideas Bobert – see Mr. Bean meet Ginger Rogers in a whimsical brew of physical comedy and conundrum for the whole family.
Tours of the Arts Club production and costume shop show visitors where the mechanics of magic are created. Trap-doors open, actors fly and costumes set the stage.
IVancouver TheatreSports® League performs some of the most innovative and daring improvisational comedy you will ever see.
See Open-Air Illustration, featuring eight Vancouver artists' work at transit shelter locations around the Island, or watch live stone carving with Zimbabwean Master Carver Patrick Sephani, among a myriad of visual arts exhibits and participatory events.
Coastal Jazz infuses the weekend with hot music at Performance Works. Ticketed shows include: the Afro-funk sounds of Camaro 67 along with Bigfate on Friday, February 17; James Danderer's Hummingbird Brigade transports listeners to the small 1930s cabarets of New Orleans and Chicago on Saturday, February 18.

Free concerts include the Robin Layne Band, Blue Moon Marquee, Only a Visitor and Rossi Gang.

Art and survival collide with the premiere screening of Waiting for Spring, a short art video by Nicole Dextras that tells the fantastical tale of living on pomegranates and surviving the Anthropocene era.
Of course there's always the world-renowned Public Market to explore as always. Inspired by the freshness of the Public Market, come experience the culinary delights of Granville Island. Enjoy a fascinating assortment of colourful stalls showcasing many unique local products and the very finest in gastronomic delights – all fresh from the ocean, the oven and the field.
For more information about the Winterruption Festival and other fun at Granville Island, follow along on Facebook and Twitter.