If there's one person I would undoubtedly call a living legend here in Vancouver, right now, it would be Red Robinson, and he'll be signing his new book at the Museum of Vancouver on Thursday. Red is a radio DJ who can be ranked up among the very best in the world, who had the instinct and foresight to bring rock and roll music to the Pacific Northwest over 60 years ago.
Red Robinson Timeline
"Red was spinning the hits on Vancouver's CJOR while still in high school in 1954. He was the first DJ to play rock'n'roll music on a regular basis in Canada. In 1957, Red jumped to Vancouver Top 40 giant CKWX, where he met Buddy Holly and Elvis and was MC for Elvis' appearance.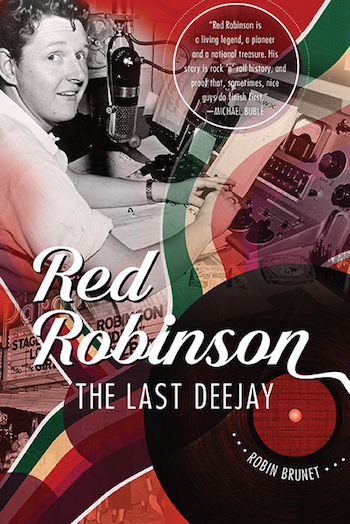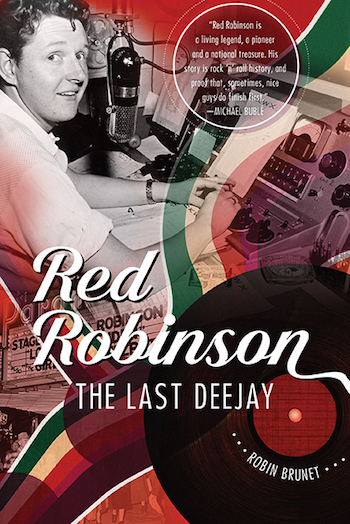 A move to Portland's KGW in 1959 gave Red experience in a brand new rock'n'roll medium: TV. After a stint in the US Army, Red returned to CKWX in 1961. The next year he was hired as Program Director at Top 40 newcomer C-FUN, and he turned it into a rock'n'roll powerhouse. In 1964, Red introduced The Beatles on the same stage where Elvis appeared seven years earlier.
As host of CBC-TV's Let's Go from 1963-1966, Red introduced some of Canada's best-known rockers, including Randy Bachman, Terry Jacks, The Collectors and many more. In 1968, Red returned to CJOR, where it all began, as Operations Manager.
In 1971, history repeated itself when Red moved to CKWX. Red hosted Trivia Challenge, another coast-to-coast television series for CBC-TV in 1979-80. A group of contestants was so inspired by the concept they created Trivial Pursuit.
As part of EXPO 86, Red presented The Legends Of Rock'n'Roll, featuring 40 acts including Ray Charles, Roy Orbison, Fats Domino, Jerry Lee Lewis and The Righteous Brothers. Red returned to television in 1989, hosting the long-running Red's Classic Theater on Bellingham's KVOS-TV until 2001.
In 1993 Red built a top-rated morning show on 650 CISL/Vancouver. He was elected into the Rock'n'Roll Hall of Fame in 1994, the Canadian Broadcast Hall of Fame in 1997, and the Rockabilly Hall of Fame in 2000. Red "retired" from radio in 2001, but continued to broadcast his show Sundays on 650 CISL."
You can read all of this and more on Red's website, which also hosts an amazing audio archives of interviews that span the last six decades.
Red Robinson Book Launch at MOV
Red Robinson will be on site at the Museum of Vancouver on Thursday to sign his new book, The Last Deejay.
Where: Museum of Vancouver (1100 Chestnut St, Vancouver)
When: Thursday, November 10, 2016 from 3:00pm to 5:00pm
Admission: This event is free with admission to the Museum of Vancouver: Adults – $15; Seniors/Students/Youth – $11; Children 5-11 – $5. Members – Free.
Books can be purchased from the MOV Gift Shop. Red and Robin will be signing books after a presentation. Refreshments will be served.