It's 2:00pm the day before my sleep out with Covenant House and the lights just came on in my office since it's so dark outside already. I put down my hot cup of decaf coffee and shuffle my slippers over to the thermostat to give it a nudge. I walk down the hall to my closet and pull out my backpack which I start packing with supplies for tomorrow night.
Gloves (both mittens and fingerless so that I can type on my phone from my sleeping bag), a toque (Covenant House branded, from last year), two scarves (one for my neck and a thick Whitecaps scarf to use as a pillow), a fleece sweater, my fuzzy synthetic Ugg knock-off boots, my leggings, my long running pants, and a thick pair of socks. My backpack is now puffed out like a stuffed parachute bag. An extra battery pack for my iPhone, ear plugs, and my metal water bottle round out the gear list.
At the event, I'll be given a sleeping bag and a piece of cardboard for the night.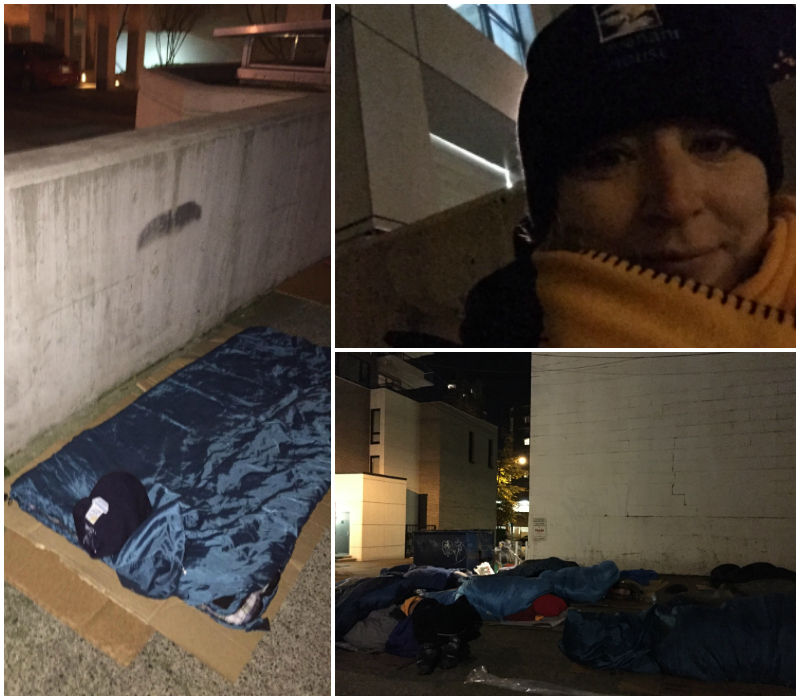 Tomorrow night I'll arrive at Covenant House, I'll meet the other participants, we'll have some snacks, and we'll meet some of the youth that have benefitted from various levels of Covenant House's services. Some will talk about the homes they came from, for others it's too painful or too much of a distant memory.
Many of the youth that Covenant House supports don't get the luxury of packing an overnight bag as I did. They don't get to parse through a box of winter clothing, select items that might keep them warm or dry enough, and carefully plan their night on the street. Some come to Covenant House with absolutely nothing, and they've been through absolutely everything.
Many of the kids have lived with violence or the threat of violence for much of their young lives. Feeling safe is a right we all have but one these kids have not enjoyed.
On any given night there are over 700 young people living on the streets in Vancouver. Vancouver's downtown streets are dangerous. Sexual exploitation, drug abuse, poverty and illness are commonplace. Many youth are re-victimized on the streets, having fled one unsafe situation only to find their circumstances are often worse. Exposed to the elements, lonely, afraid and without hope; this is the reality for kids on the street.
Covenant House Statistics
39% of Covenant House's youth present with a mental health diagnosis
70% have witnessed family violence
50% of Covenant House's youth present with an addiction problem
95% of Covenant House's youth report that Covenant House has helped them
75% of youth feel more confident about their future after staying at Covenant House
Average length of stay has increased 83% in past five years (Covenant House knows that a young person's success rate increases significantly with longer stays)
This will be my fourth year participating, sleeping outside in an alley in Downtown Vancouver so that we can raise funds to support homeless youth in Vancouver. It's wet, cold, and miserable every single year but every year I keep coming back. It's such a seemingly small gesture for me to make. It's an inconvenience and a discomfort. But it's nothing like what others have to endure. I do it so that I can reach my social audience and raise funds for Covenant House's programs. I do it so that THEIR stories can be heard, not mine.
I would love your support for this campaign. $10, $20, $50, any amount you can donate directly to Covenant House through my campaign page would be of significance. Whatever amount you can spare can truly make a difference.
Donation Perks
All those who donate $20 or more before November 17th will be entered to win a $200+ London Drugs prize pack from me. Additionally, a generous Sleep Out participant from last year has offered to match ALL donations made by November 30th – up to $50,000!
Thank You
Thank you very much for your consideration. Follow me on Instagram and Twitter for updates on November 17th when I sleep out on the street again. Follow Covenant House on Twitter and Facebook for much more information about the organization.