The Government of British Columbia has declared October 31st to November 4th Variety Week in BC in support of Variety – The Children's Charity. From Monday to Friday, you can tune into Global BC newscasts for stories, interviews and entertainment that will showcase how Variety helps organizations and kids in your own community and throughout the province.
Variety Week in BC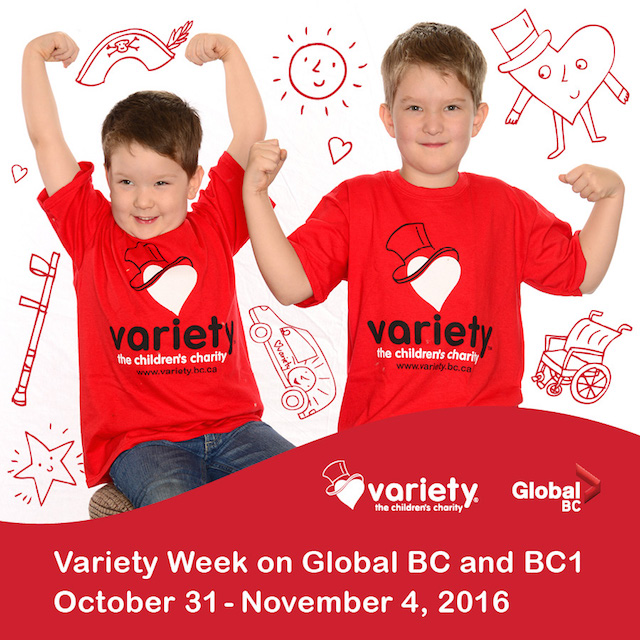 Throughout the week viewers will experience firsthand the difference every dollar can make to a family in need, as they are introduced to children and families who need assistance right now. These stories and victories will be updated as part of the 2017 Show of Hearts Telethon in February allowing donors to see their contributions in action.
"Variety is there to help families who are in need to help their children's special requirements," says Variety BC executive director, Kristy Gill. "There's not a lot of organizations out there that provide direct support to families like Variety does. The more support we get from the community, the more kids in all of British Columbia we can help."
Variety Week Street Festival in Surrey
Where: Central City Shopping Centre Plaza (10153 King George Blvd)
When: Friday, November 4, 2016 from 11:00am to 7:00pm
Admission: Free! RSVP to the Facebook Event for updates.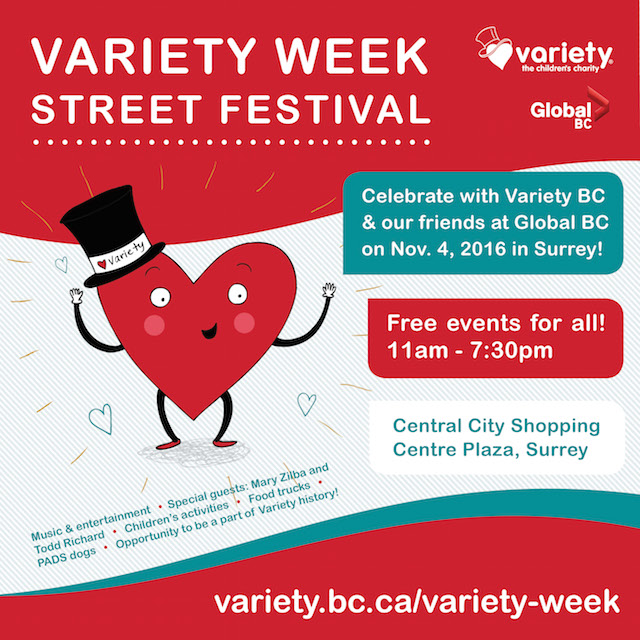 The Variety Week Street Festival will feature children's activities, live demonstrations, and music performances with special guests including country music artist Todd Richard, and singer/television personality Mary Zilba. It's a Pro-D day in Surrey so you can stop by anytime with the family for free fun and activities throughout the day!
Tune into Variety Week in BC on Global BC newscasts from October 31 to November 4, 2016. Variety steps in where health care ends to ensure families get the support they need and you can show your support at any time by texting KIDS to 45678 to make an instant $20 donation.
Follow Variety BC on Instagram, Facebook, and Twitter for more information.
Miss604's Rebecca Bollwitt is a proud Member of Variety BC