The fun and festive spirit of the season meets fundraising with local families at the 4th annual PirateHouse Fundraiser in Burnaby. Consisting of an annual Halloween pirate-themed yard display and an online auction, PirateHouse began in 2013 as the brainchild of Dr. Julie Desroches to raise funds for St. Stephen Children's Centre in Uganda.
PirateHouse
Where: 5970 Portland St, Burnaby
When: Public night is Monday, October 31, 2016 from 5:00pm to 8:00pm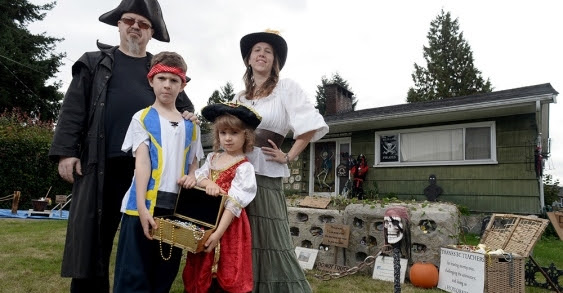 Since its inception, PirateHouse has raised enough booty to provide a roof, solar electricity, and a new rainwater harvesting tank for the St. Stephen Children's Centre in Uganda. This year the goal is to get desks for the students.
10 Reasons to Love PirateHouse
The organizers have sent out this list of reasons to bring the family by on October 31st:
It's not too scary and it's fun for little ones.
There are tons of fun pop culture references – if you like pirates, Disney, and/or sci-fi, you'll love exploring all there is to see.
Over 20 artists on the Crew created numerous, one-of-a-kind pieces for the display, many out of recycled materials.
Captain Julie, the creator of PirateHouse, was at death's door for the Halloween of 2008. This is her celebration of life project.
The display has a social message underneath it all – it celebrates those who choose to live honorably.
It's full of nods to honorable pirates in Captain Julie's life.
Two words: Pirate Ship!. Little ones, big kids and adults all love getting a chance to steer – and get a photo or two of course.
The "island" and nearby "sea" even have their own story, legend, and curse.
PirateHouse is making a huge difference in Uganda. Fundraising efforts support St. Stephen Children's Centre. So far it's helped get them a roof, electricity, water, and they're not stopping there!
You can get extra trick-or-treating loot if you donate, dress as a pirate, or do the treasure hunt.
In 2013 "Captain" Julie Desroches rallied over 20 family & friends to help create PirateHouse, a pirate-themed Halloween display in Burnaby, BC. This art project was a "bucket list" dream of Julie's as a way to celebrate her survival of a life-threatening illness and to thank her "honourable crew" who helped her through it. It was also created to raise funds for St. Stephen Children's Centre, a school and community centre in Uganda started by Julie's close friend Ben Ssemwogerere whom she met when she volunteered in Uganda in 2000.
If you can't make it to PirateHouse on Halloween, you can still make a donation through the BC Society for St. Stephen Children's Centre website or bid on one of the online auction packages.