The 12th annual Canuck Place Gift of Time Gala takes places on October 15th. Throughout its history, a highlight of the evening has been hearing from a Canuck Place family speaker. Last year, in front of a crowd of over 700 guests, Amy and Regan Ross bravely spoke about the loss of their daughter, Gabrielle. As we approach this year's gala, Canuck Place has taken a look back at the story the Ross family shared.
"Life with a child such as Gabrielle and the other special children who are part of the Canuck Place program is anything but easy," said Regan. "It is wonderful. The joys and the wonderment you get to share with these children are beyond words. But the challenges families face, not on a daily basis – but on a minute to minute basis – is utterly unimaginable unless you have lived through something similar."
Amy told the room that their time with Gabrielle was magical. "She changed our lives in ways we never could have imagined. I grieved the loss of a healthy little girl, but what I was chosen to have instead, was the wisest, most loving and brave little girl, who challenged her mom, dad, and brothers to rise to the occasion and to live our lives that best way we could. After our initial stay at Canuck Place we settled at home with Gabrielle and enjoyed every minute with her, not knowing when would be our last."
Throughout the three years they had with their daughter, one question lingered in the air.
"How do you raise a child you know is going to die?" asked Regan. "The truth is there really is no right answer to that question. You just do. Part of you dies when you're faced to that question. You fall down to your knees and struggle to get up to face what you need to face. Canuck Place helped pick us up. They helped us answer and live through that question. And they helped us give everything we possibly could to Gabrielle and our three boys."
Gabrielle passed away at Canuck Place in June 2013. The Rosses now have three sons, aged four, seven, and nine.
The entire family makes regular visits to Canuck Place to attend bereavement counselling, and Amy is currently a member of the Canuck Place Family Advisory Council, a group of Canuck Place family members who provide feedback and suggestions to Canuck Place staff.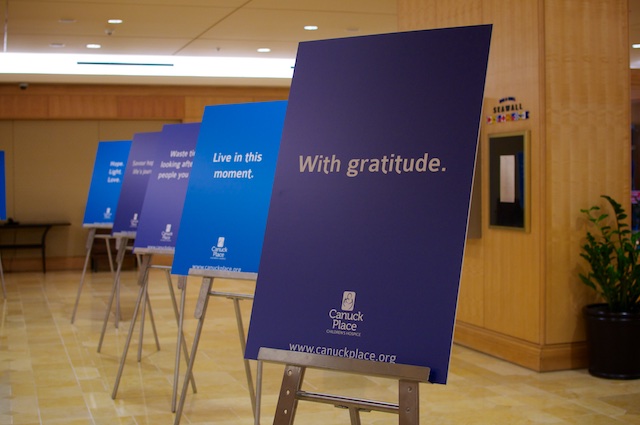 Their input helps guide new or changing initiatives, so they can best meet the many needs of Canuck Place families. This group was even involved in designing the layout of a second Canuck Place location in Abbotsford, their unique perspective provides the invaluable insight into the experiences and needs of all families Canuck Place reaches.
The 2016 Gift of Time Gala is sold out, but you can still support by donating to the Friends of Gift of Time fund. Follow Canuck Place on Facebook, Twitter, YouTube, and Instagram for the latest news and updates.
Miss604 is the proud Social Media Sponsor of the Gift of Time Gala