The largest free youth event of the year is Surrey Youth Fest, happening September 17th at the Guildford Recreation Centre.
Surrey Youth Fest
Where: Guildford Recreation Centre (15105 105 Ave)
Date: Saturday, September 17, 2016
Time: 1:00pm-7:00pm (festival) & 8:00pm-11:00pm (dance)
Admission: Free! RSVP to the Facebook event to get info and reminders.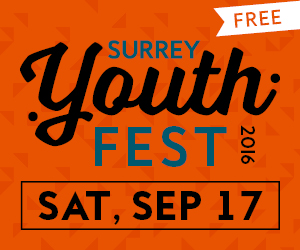 Enjoy local youth bands and performers, play carnival games, watch the dance battle and skatepark jams, climb a rock wall, visit the food trucks, participate in a workshop, contribute to the cardboard wolf art project, snap a photo at the booth, get henna or airbrush tattoos, eat cotton candy and chocolate, win prizes and more!
After the festival, get down to DJ Deth Klown or kick back in the lounge at the Youth Fest After Party. If you're interested in performing at Youth Fest or leading a mini workshop, contact [email protected].
Band-Aid
The week before, at Band-Aid on Saturday, September 10, 2016, young musicians join music industry mentors, such as Speed Control and Bob D'Eith, for a jam-packed day of interactive workshops and opportunities to learn and collaborate with fellow musicians and music professionals. The day ends with a jam night featuring the musicians and mentors of Band-Aid.
Registration is required to attend Band-Aid and participants have first priority to perform at Surrey Youth Fest on September 17th. Register soon to save your spot by calling 604-501-5566 and press zero to speak to the front desk. The course code is 4481518 and you'll be asked if you are a solo artist or if you are part of a band. Participate in Band-Aid to receive priority for performing at Youth Fest.
Follow Surrey Youth on Twitter and Facebook for more information.
Miss604 is a proud sponsor of Surrey Youth Fest