Bowen Island: The Happy Isle. Postcards and advertisements painted a picture of a stunning island getaway just a quick boat ride from Vancouver, where the waters were emerald green and the cottage life was bustling. Picnics, socials, dances, company retreats, hikes, swims, dives — it was the original summer getaway from Vancouver.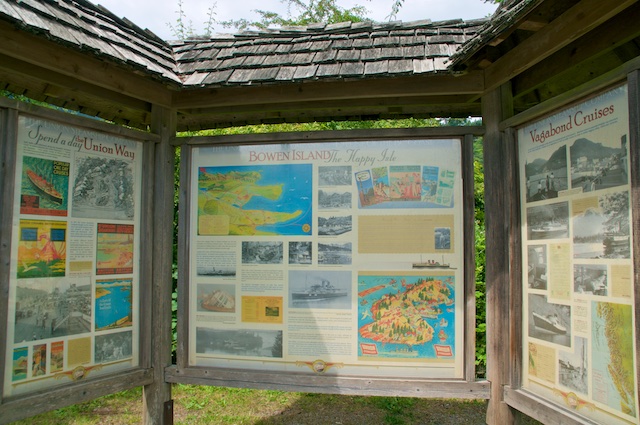 I had my first trip to Bowen Island earlier this summer, and I was only previously familiar with it by sailing past on a BC Ferry to the Sunshine Coast or Nanaimo, or through the photos I found in the City of Vancouver Archives. It took me far too long to get here — in terms of being a born-and-raised local, not the ferry which is just 20 minutes from Horseshoe Bay.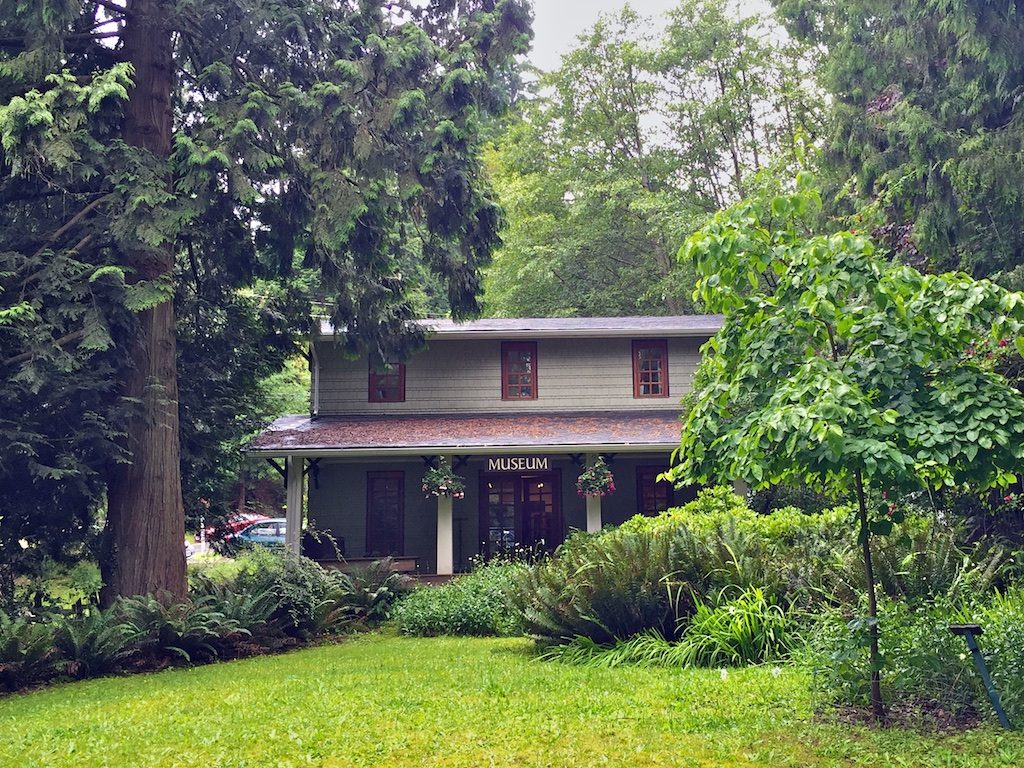 John and I spent two days on the Happy Isle recently, and one of our stops was the Bowen Island Museum & Archives. If you're looking for the history of a place, to get a true sense of its foundation and meaning, visit its museum.
Bowen Island History Timeline
Sources: Bowen Heritage, Bowen Museum & Archives, Vancouver Archives photos.
The Squamish name for the Island is Xwlíl'xhwm, meaning "Fast Drumming Ground". Some authors attribute the name to the sound made by the ocean as it passes through the tiny pass between the Island's northern point and Finisterre Island. In the Squamish creation story, Xwlíl'xhwm is often referred to as the place where the deer were created.
The island was charted in 1791 by explorer José Maria Narváez, who named it "Isla de Apodaca". Bowen Island was renamed in 1860 in honour of Rear Admiral James Bowen, who was master of HMS Queen Charlotte during the battle of "The Glorious First of June" [1794]. Anxious to settle its colonies, Britain introduced a system of land pre-emption in 1859 for vacant Crown lands. Settlers willing to clear and fence land, build a home and produce crops could claim title to the land. The first settler to pre-empt land on Bowen did so in 1874. From that time until the turn of the century, Bowen was a hive of industrial activity.
One of the early settlers was William Davies, who pre-empted 33 acres of land at the head of Snug Cove in 1887. There, he planted a five-acre orchard and established a business selling fruit, game and sundries. The remains of Davies Heritage Orchard lie in the heart of the modern village of Snug Cove, as part of a large park that surrounds the village. Some of Davies' original trees remain and Bowen Island Heritage Preservation Association has restored the area with new trees of the same varieties as those he planted.
During the steamship era, coastal steamers carried goods to and from Bowen via docks in Snug Cove, Cowan Point and Miller's Landing. By 1900, the enterprising Captain John Andrew (Jack) Cates recognized Bowen's potential as a tourism destination. Cates had been operating a ferry passenger service in Howe Sound, with stops on Bowen Island. In 1902, he formed the Terminal Steamship Company. Its new flagship, the SS Brittania, carried 300 passengers and was soon joined by a fleet of four other ships.
Cates continued to acquire land on Bowen Island and built the Terminal Hotel, more picnic grounds, a farm, store and bakery. The profitable operation came to the attention of the Union Steamship Company, which had begun operations in the Pacific Northwest in 1889, expanding into Alaska during the Klondike Gold Rush. In 1920, "the Union" bought Cates' Bowen holdings and began to renovate.
Over 100 'bungalow' and 50 'camp' cottages were built in Deep Bay and around the Lagoon. A dance pavilion, said to be the largest in British Columbia, was built on Snug Point, near the ferry landing. It could accommodate 800 couples on its sprung-wood floor. Business went well and by 1923, the company commissioned a new flagship to be built in Scotland. The Lady Alexandra arrived in service in 1924 with tons of Scottish sand in ballast, which was placed on "Sandy Beach" in Deep Bay.
Capable of carrying 1400 passengers in true luxury, the Lady Alexandra offered daily cruises to Bowen Island for $1 and advertised popular summer evening dance cruises on Wednesdays and Saturdays. Passengers could dine, drink and dance on board, a novelty in Vancouver until well into the 1950s.
By the 1930s, in addition to the day-visitors, families were returning to rent the same cottages for the entire summer season. Many visitors to Bowen today have stories of happy summers spent in one of the cottages.
Tourism peaked between 1937 and 1946. The Lady Alexandra alone recorded 137,000 passengers in 1937 and in 1946, 101,000 visitors were said to have arrived on Bowen via one of the Union's "Ladys" or by Sannie boats from Horseshoe Bay.
In 1941, the Canadian Pacific Railway acquired a controlling interest in the Union, only to sell it when tourism began to fall off after the Second World War. The Union lost its Bowen Island franchise to the Black Ball Ferry Company. In 1959, the Union fleet was sold to Northland Navigation.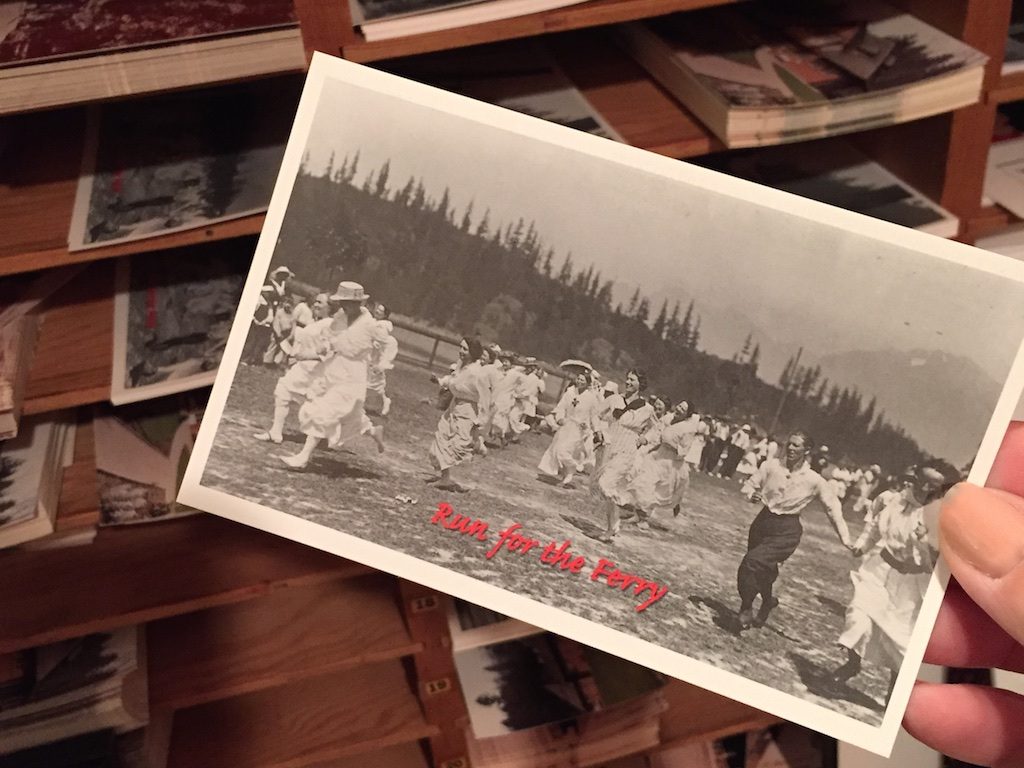 Bowen's population is just over 3,400 with about 25-30% commuting to and from Vancouver using BC Ferries and water taxi services. It's still a summer playground, with hiking on Mount Gardner, shopping, food and adventures tours (which I'll feature in a future post), and beaches that dip into Howe Sound and the Salish Sea.
The Bowen Island Museum is just a 10 minute walk from the Snug Cove ferry terminal and it's open 7 days a week (May through August) from 10:00am to 4:00pm.
Sources: Bowen Heritage, Bowen Museum & Archives, Vancouver Archives photos.