There are two types of people in this modern world: Those who use "LOL" and those who use "Ha Ha Ha" when replying to something funny with email or text message. I'm in the "Ha Ha Ha" camp, because I feel that unless I'm truly laughing out loud, I shouldn't be implying that I am (no matter how funny the cat photo my husband just sent me might be). This past week at Bard on the Beach, I found myself in camp "LOL" as my first Shakespeare comedy experience at the Merry Wives of Windsor had me laughing out loud throughout the evening.
Bard on the Beach Review Merry Wives of Windsor
You know you're in for an entertaining evening when Bard's Artistic Director Christopher Gaze sits down behind the drum kit to jam with costumed cast members on stage as the audience finds their seats. After Gaze's introduction of the show, we are transported to the Garter Inn where the show opens with a musical number at Open Mic Night.
Set in Windsor, Ontario in 1968, this classic comedy is the only one Shakespeare didn't set in a foreign or imaginary country. It's full of Canadiana, with inn as the main setting, along with the local curling club and shout outs to Sudbury. Stubby beer bottles, pink flamingos, egg chairs, lava lamps and the musical stylings of Patsy Cline and Hank Williams.
The set design (Pam Johnson), costumes (Drew Facey), and music (Ben Elliott) did the era justice with bold and bright whimsy but it was the electric performance by the company that brought the cheeky, calamitous adventure in flirtation to life.
Ben Elliott's Slender evoked the first chuckles from the audience with his animated portrayal along with Andrew Chown as a vibrant Doctor Caius. Sir John Falstaff, a character so loved by Queen Elizabeth I in Henry IV that she insisted he be brought back in another play, was wonderfully portrayed by Ashley Wright.
While the men delivered the physical comedy, the women of the company were the brightest stars. Katey Wright (Mistress Meg Page), Amber Lewis (Mistress Alice Ford) sang, danced, and mischievously plotted in floral fabrics and cool cat-eye glasses. Jennifer Lines as Mistress Quickly added a flare you'd find with a meddling maid in a 1960s era soap opera, Hailey Gillis played it cool as Miss Anne Page, the an object of many affections, and we were all rooting for Dawn Petten as Simple whose lines were few but expressions told a bigger story.
Shout out to the rest of the company: David Marr as Justice Shallow, Andrew McNee as Pastor Hugh Evans, Victor Dolhai as Bardolph, Anton Lipovetsky as the Host of the Garter Inn — who also shredded it up on the electric guitar. Recent Jessie Award winner Daniel Doheny was a Fonzie lookalike as Fenton, and Scott Bellis as Ford with Tom Pickett as Page stepped off the Mad Men set and onto this Shakespearean mashup in style.
Each cast member was a triple threat and when I read in the program that each is also in Romeo & Juliet on the Bard stage, I was even more impressed by their talents. Live music, the Bard's quick wit, and the performance by the company were all superb.
Add to that the Bard on the Beach experience, sipping wine under the light strings along the waterfront as the sun sets, and you've got yourself the most entertaining evening you'll find in the city this summer.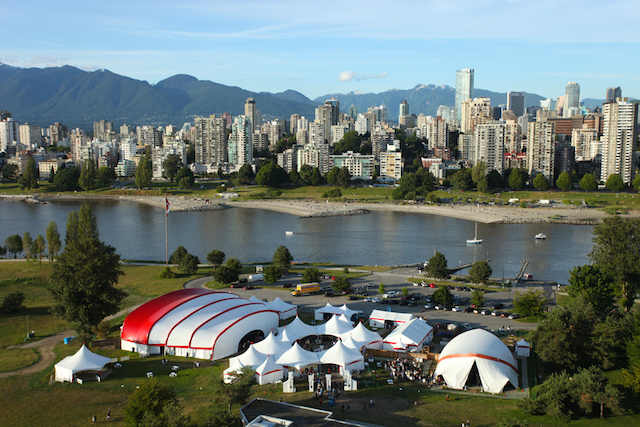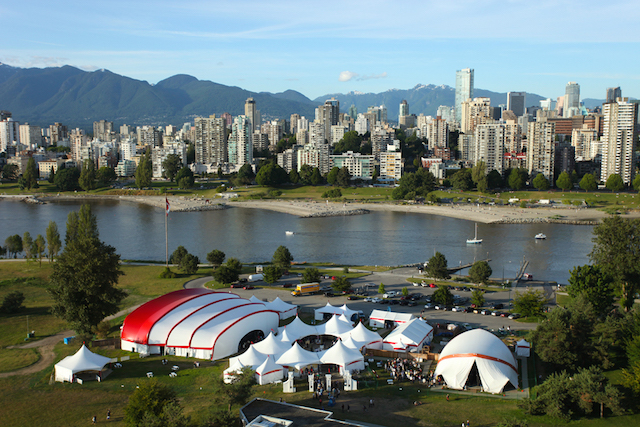 Tips: You don't need to know Shakespeare before you go but there are pre-show talks in the Bard Village if you would like to brush up on the plot synopsis, a glance in the program will do in a pinch. Check out the Bard Boutique for some cute t-shirts and pre-oder your intermission drinks — you won't want to miss a minute of this wonderful show.
Ticket prices for 2016 include all applicable fees and taxes and begin at $20 for every regular performance. Book tickets through the Bard Box Office at (604) 739-0559, (toll free) 1-877-739-0559 or order online through the Bard website. All evening performances start at 7:30pm. Follow Bard on the Beach on Facebook and Twitter.