This summer I've had the pleasure of writing about, and researching, a handful of Nanaimo's festivals. From chowder and Nanaimo Bars, beer and food trucks, to world class blues music and championship bathtub racing. While I was on assignment for Festival Seekers, I also hiked to Ammonite Falls and got above the city with Sunshine Coast Air, and enjoyed plenty of good eats and great drinks.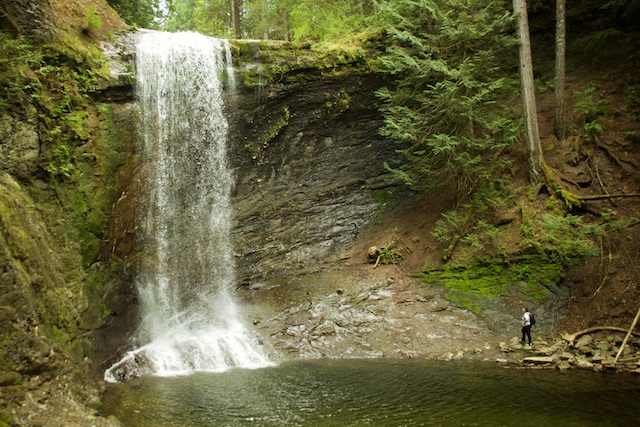 2 Days in Nanaimo
If you're heading to Nanaimo, for fun, family, friends, or a festival, here are a couple of itinerary suggestions:
Indulge With A Day of Nanaimo Bars
Eat
Follow the self-guided Nanaimo Bar Trail for themed dessert bar goodies that include deep fried varieties, spring rolls, cupcakes, gluten free, pie, ice cream, cheesecake, truffles, and of course classic Nanaimo Bars.
Drink
Also along the Nanaimo Bar Trail, you'll find Nanaimo Bar Martinis served up at several locations. Pop into Modern Cafe (221 Commercial St) in the heart of downtown to sip your way through a Nanaimo Bar experience. Themed martinis are also served up at The Grand Hotel (4898 Rutherford Rd), Bold Knight Restaurant (1140 Trans Canada Hwy), The Nanaimo BAR (#2, 75 Front St), and Wolf Brewing (940 Old Victoria Rd) pairs their Dead Whale Beer with a Nanaimo Bar in their tasting room.
Play
The Nanaimo Bar Pedicure is offered at House of Kiyo Salon & Spa (#2 -404 Stewart Ave) downtown, and you can shop Lobelia's Lair (#8 321 Wesley Street) in the Old City Quarter for Nanaimo Bar soap & massage oils. The Nanaimo Museum (100 Museum Way) downtown even has a Nanaimo Bar History Exhibit.
Adventure Awaits
Eat
After (or the day before) a sweet binge on coconut, custard, and chocolate goodness, fuel up with some hearty eats at Gabriel's Cafe (39A Commercial St) downtown. Have an omelette with oyster mushrooms, kale & aged cheddar for breakfast, or snack on some quinoa & chickpea fritters with Sriracha mayo at lunch time. Breakfast and lunch is also served at Two Chefs Affair (123B Commercial St) downtown. Try French toast with pumpkin spice, cinnamon, and vanilla bean, served with blueberries and sweet cream cheese, or a Crab BLT for lunch with fresh crab, tomatoes, crispy bacon, lettuce, and pickled ginger, stacked on a butter toasted bun.
Drink
There are some great taprooms in Nanaimo, all with a different community and flare. White Sails is just across from Maffeo Sutton Park, the Longwood Brewpub is just up the highway (5775 Turner Road) and their taproom is closer to town (101A – 2046 Boxwood Rd), and Wolf Brewing Co has a taproom (940 Old Victoria Rd) just south of downtown.
Play
From waterfront strolls to forest hikes, Nanaimo is a great place to go for a hike or walk. Tourism Nanaimo has posted about their Top 5 Walks and my favourite is their list of Waterfall Walks, including Ammonite Falls. Of course you can also bike, paddle, SCUBA, swim, zipline and more all around the region.
Three upcoming festivals that would make a great home base for your Nanaimo adventure this summer are: Nanaimo Marine Festival's World Championship Bathtub Race on now (July 21-24); Longwoodstock Festival at Longwood Brewery (August 12-13), and the Summertime Blues Festival (August 26-28).
For all of these recommendations and more, follow Tourism Nanaimo (Facebook, Twitter) as well as Festival Seekers (Facebook, Twitter). Have a great time on Vancouver Island!