by

Disclosure: Review

— Views are my own. This is not a paid post. We were driving a Honda Pilot media fleet vehicle for review purposes. Please review the Policy & Disclosure section for further information.
This spring, John and I did a Midwest road trip with the Honda Pilot. Our destination was his niece's high school graduation in his hometown in Eastern Iowa, and our the overall goal of our journey was to introduce me to other Bollwitt family members that I haven't met yet — in 10 years of marriage!
Interspersed across the Western United States, we were able to stop and see family in Montana, South Dakota, Nebraska, and of course in Iowa, where we eventually stayed put for over a week.
Thanks to Honda Canada, we were equipped for the road in style with the all new 2016 Honda Pilot, Touring. The technology, interior comforts, and performance were perfect for this trek, that took us from the interstate to scenic byways, major capitol cities to rural farm town. Here are just some of the stops we made along the way:
Devils Tower, Wyoming
Devils Tower, Wyoming. America's first national monument and a major icon from a Steven Spielberg film John made me watch for the first time upon our return.
Devils Tower and the #HondaPilot. Making our way home via Wyoming. @HondaCanada #BollwittsAcrossAmerica pic.twitter.com/YLM0wlObEW

— Rebecca Bollwitt (@Miss604) June 3, 2016
Badlands, South Dakota
I've been the Canadian Badlands before but never have I seen the area south and east, in South Dakota. We woke up at our highway-side hotel that was near Mount Rushmore and I spotted the detour loop through Badlands National Park. I told John it's something he's got to see and he agreed.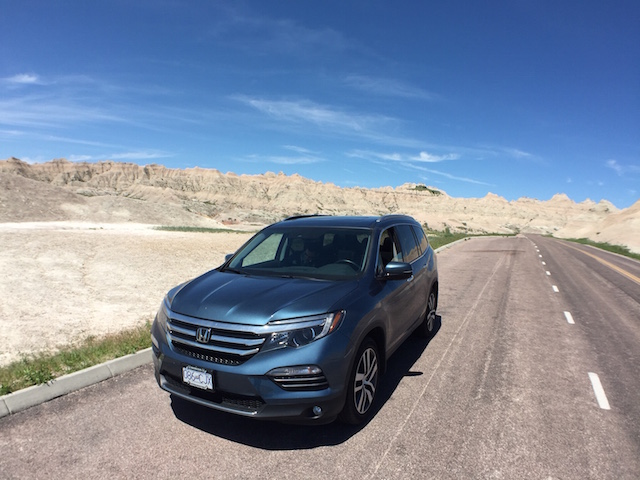 All the places in between…
We stopped in Ashfall, Nebraska, dubbed the "Pompeii" of Prehistoric Animals and named a US National Landmark in 2006. There was also Wall Drug in Wall, South Dakota for which billboards spot the landscape along the I-90 for hundreds of miles in each direction — make sure you stop in for some free ice water (their claim to fame since 1930).
We had to visit the Corn Palace in Mitchell, South Dakota, and John's aunt walked us over to the Geographic Centre of America in Belle Fource, South Dakota. Come to think of it, while our destination was Iowa and we visited many people in between there and home, we really explore South Dakota the most.
I'm in the geographic center of America tonight! @southdakota #BollwittsAcrossAmerica pic.twitter.com/uS28cTXZiB

— Rebecca Bollwitt (@Miss604) June 3, 2016
Pilot features we loved
We really couldn't have dreamed up a more comfortable ride for our adventure. Some of the highlights for me throughout the trip included:
Interior Comforts: Pull-up blinds on the back windows that, when it was a sweltering 30 degrees in the Badlands, helped prevent the oven-like feeling in the vehicle when we hopped back in after a walk. The sunroof was great to have, and we opened it when we finally rolled into John's home town, but it was the panoramic moonroof that added that "wow" factor.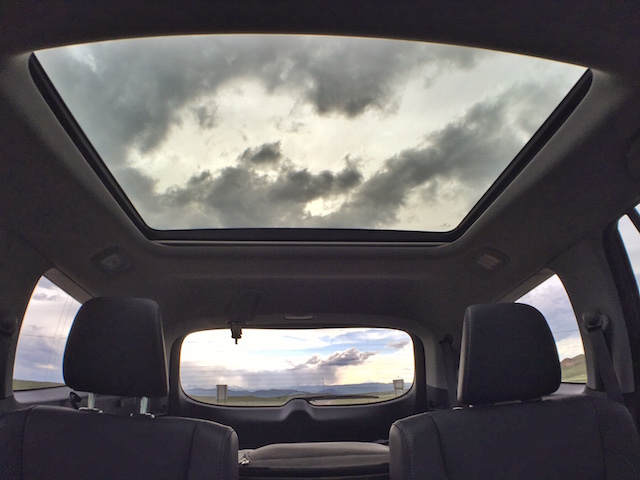 With two drivers, we programmed two seat positions using buttons #1 and #2 on the driver-side door. When I hopped in, I pressed #2 and my settings were adjusted automatically. Finally, the luggage room was great. We folded down the third row of seats to easily slip our suitcases in and out, and pack the side compartments with souvenirs.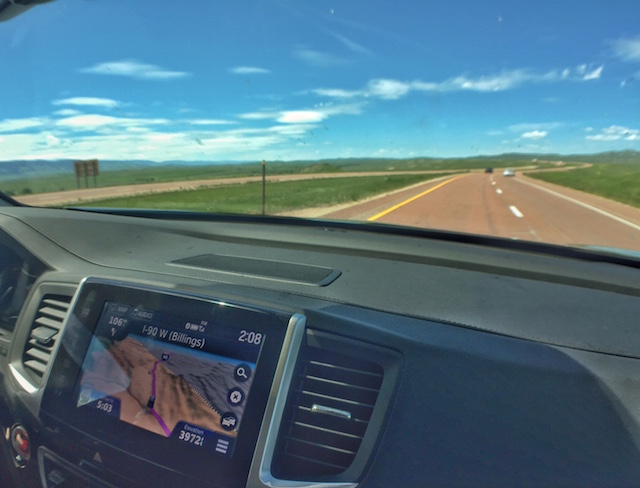 Honda Sensing Technologies: While on the road for 12 hours of interstate driving, cruise control management became my new best friend. We switched our electronic speedometer to mph when we crossed the border so it was easy to read. Then, activating cruise control, we kept a nice pace for hours. When we approached a vehicle in our lane that was going slower, the cruise control automatically slowed up. I could change the distance settings so that it would slow up within several stages of approach, which was helpful. It allowed us to ease up on approaching traffic ahead, and make a safe turn into the left lane to make our passes. Once we passed and returned to the right lane, with no obstructions ahead, cruise control resumed its set speed.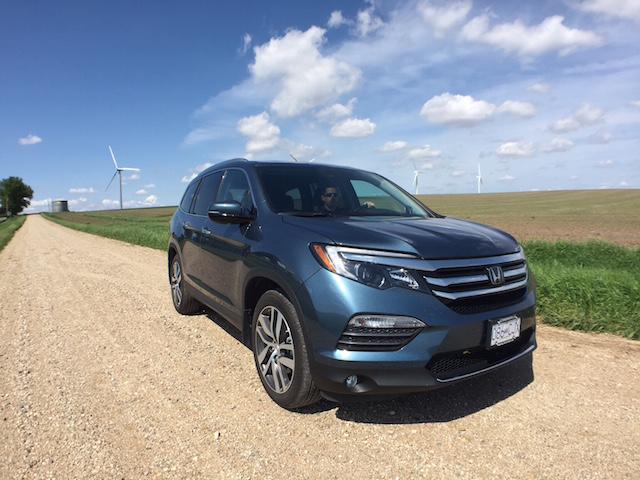 Technology: John is a radio guy. He loves listening to local stations to see what they're programming or what technology he can discern. He worked for Iowa Public Radio for years before I met him so it's in his nature. However, sometimes signals are few and far between. We loved having SiriusXM available on the Honda Pilot (the 1st Wave station was a road trip life saver), and HD radio.
Multiple USB plugins were a must so that each of our devices would stay at full charge (there were several in the front console), and the navigation system didn't lead us astray.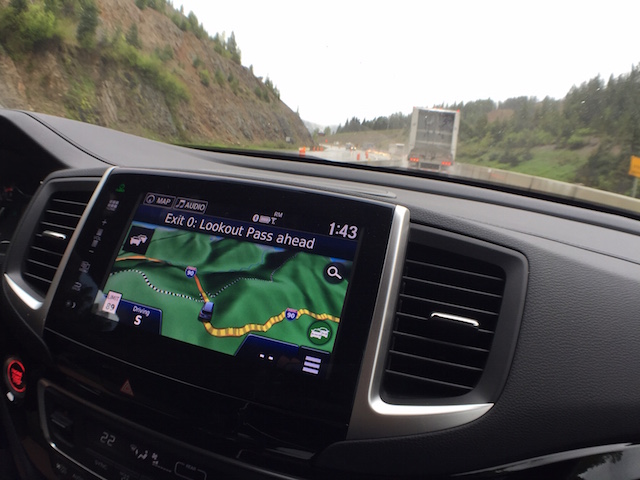 One feature we weren't too keen on was that the vehicle switched off when idling, like you would find with a hybrid. It's great for fuel economy but it was disruptive in stop-and-go interstate traffic when there was construction. Specifically, the steering wheel locked when the engine cut, before it would kick back in again when you released your foot from the brake. I have since learned that it is easily disabled.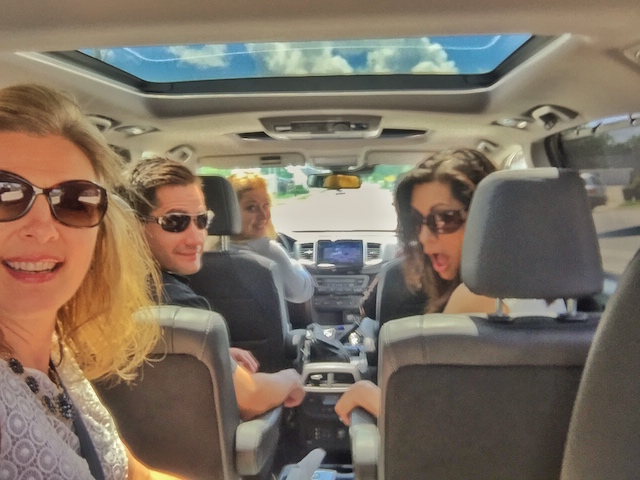 The Honda Pilot proved to be a very trustworthy and luxurious ride for our cross-country journey. Even John's family loved jumping in when we all went over to the high school for his niece's graduation ceremony.
My sister-in-law snapped a selfie and caught the beautiful panoramic moon roof in the shot (and the face my other sister-in-law was making, I think she was just excited about the day ahead).
With every road trip, there's a destination, but it's the stops you make along the way that make the journey special. I'm so thankful to have been able to (finally) meet many Bollwitt family members who all opened their homes to us, hosted us at their supper tables, and welcomed us weary Canadian travellers with open arms. Big thanks to Honda Canada for making this trip possible.