Contributed by Steffani Cameron of FullNomad.com, follow her on Instagram @snarkysteff.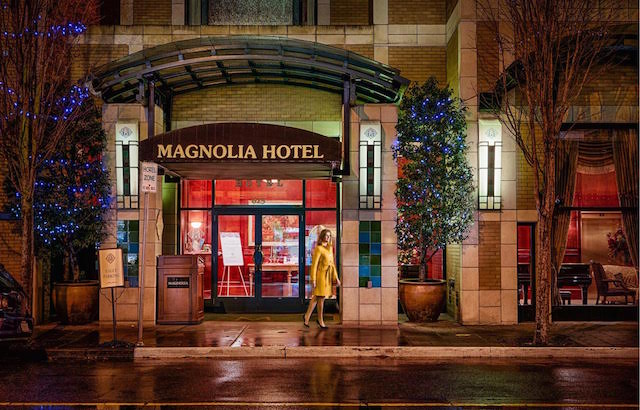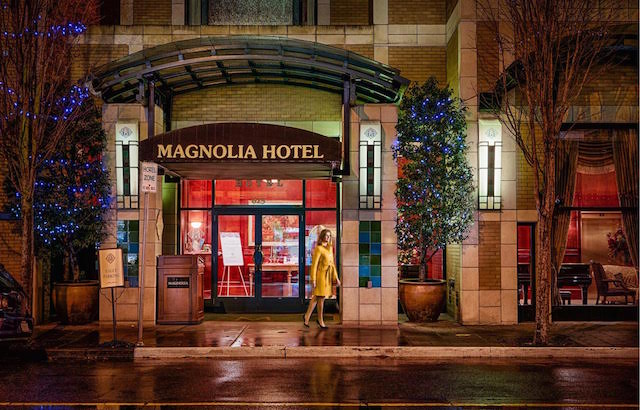 I had the good fortune to live in Victoria for 3.5 years, so when I had the opportunity to enjoy some promotional time in Victoria on behalf of both Tourism Victoria and Miss604.com, I leapt at it.
One of two places I stayed at, the Magnolia Hotel, gave me much-needed rest and relaxation. The suites are designed to completely pamper you. The hotel being in an older building means the rooms are perfectly sized, not large or spacious, but just right for a table, desk, some chairs, and most importantly, wonderfully indulgent beds.
I was pretty excited to be staying in a hotel with a nice TV since it was the big release weekend of House of Cards 4, and I was desperate to see what Frank Underwood was doing now. Midway through my first episode, at the terribly late hour of 9:30pm, my king-sized bed looked so inviting I decided to interrupt my "marathon" and have a "nap." 11 hours later, I got up. I never even finished the first episode.
There's really no higher praise I can give a hotel than "all I wanted to do was relax." Luckily, I didn't just want to relax, I actually became relaxed. In the middle of a crazy month of non-stop location-changing, I fell into a deep and satisfying sleep, and nearly overslept for my morning appointment. A fire in the hearth, rain pattering the window, a belly full of wonderful hot chocolate provided as a turn-down treat, and my face buried in fluffy, glorious pillows – all of it gave me the recharge I so desperately sought.
When stepping away from a crazy life, that's what we really, really want—a place where problems and woes fall away for a day or three, and relaxation finds us. Enter Magnolia Hotel & Spa.
With full-service concierge, every need anticipated, free coffee and tea throughout the hotel, travel day plans on offer, complimentary bikes available to reserve, and so much more, the Magnolia Hotel & Spa is as much geared at the solace-and-recharge-seeking traveller as it is the business-class traveller who needs a place free of distractions when sneaking work into a hectic schedule in a town that beckons you to explore. I had to balance work and solace, and I have to mention how grateful I was that every room in the Magnolia Hotel has its own WiFi connection. It was so speedy! That would've been great for a House of Cards marathon, eh?
Tourism Victoria is constantly wooing travellers with the promise that there's so much to do here (because there is!), but part of Victoria's appeal is that it's a wonderful place to just be. Now that I'm back after five months spent in Europe, I like to think that Victoria was my primer in how to live like a European. Sit and soak in at the wonderful world around you. Enjoy a patio lunch. Park yourself on a bench and just enjoy your space. Stroll aimlessly until a restaurant's lovely aromatic cookery wafts out and seduces you to dine with them.
Magnolia is perfectly situated for that "just be here" approach to Victoria. Just a couple minutes from the Inner Harbour, a little further to Beacon Hill Park, and both attractions and restaurants all around it, you can have any kind of Victoria visit you want. If dining out is part of your travel passion, definitely check the list of recommended restaurants from the main desk. With over 40 local haunts to choose from, as a former resident, I can tell you they aren't steering you wrong with any of the choices, and they've made sure to include all budget levels in their offerings. Be sure you talk to the front staff too, because they're really excited to help you enjoy your stay. I found them great to chat with.
If you're looking for the full indulgent experience that I had, it's the "Diamond" Suites you'll want at Magnolia. On the top two floors, Diamond Suites come with gas fireplaces, views, and a full hot breakfast in Catalano Restaurant. I used my coupon for the best waffles I've had in ages – bacon & Emmenthal-stuffed waffles with vanilla whipped cream and maple syrup. Many weeks later and I'm afraid they've wrecked "normal" waffles for me. Such tasty goodness.
But if you plan to walk around all weekend to enjoy museums and buskers and brew pubs, and you don't need the "view" rooms or a fireplace in the hot days of summer, don't fret, because the included continental breakfast offered by Magnolia is really super too. From cottage cheese to adorable Mason jar yogurt-with-fruit portions and oatmeal with cereal-topping choices, it's a large selection of healthy, help-yourself fulfilling options. No matter what your "stay" is, you get access to the small fitness centre, but if you need a big workout or a swim, ask at the front desk for their complimentary day pass to the nearby gym and pool at the Y.
Something evident to me during my stay is how genuinely satisfied the staff seem to be They're helpful, happy, and focused on ensuring you have the relaxing stay you deserve.
As a case in point, I arrived early for check-in and my room wasn't ready, which was fine with me, so I just left my luggage and went out to breakfast with family. This isn't the first hotel I've done that at, but Magnolia staff ensured my luggage was in my room upon my return, placed on the suitcase stand.
When I needed documents printed, it was no problem and no charge (within reason). Even housekeepers greeted me with radiant smiles and waved me off when my elevator stopped for their floor.
I'm told the secret is that the local owners and in-house management know the value of their employees and work hard to keep them happy. Like when recent extensive refurbishments were completed in all common areas, management thanked staff for their patience through the seven weeks of messy renovations by serving everyone a four-course meal. Today, renovations are complete throughout the hotel.
Looking for a luxurious getaway close to home? Visit the Magnolia Hotel & Spa for a perfect location in the midst of Victoria's great Harbour lifestyle. Check out their maps of walks and bike rides that the staff have put together on handy travel cards, like their three recommended bike routes for taking in everything from the beaches to the art galleries, or the "Tapa Trail" walk for foodies, including nine great spots for tapas and cocktails.
Summer Girls Getaway Package
Renew and re-connect at the Magnolia with a 2 night Girls' Getaway Package. Catch up over a bottle of wine in your elegant room before heading out for a bite to eat – check out Catalano Restaurant & Cicchetti Bar's specials or take their Tapa Trail for a walk. After your continental breakfast, visit some of Magnolia Hotel & Spa's team members favourite shops, listed on their Beautiful Boutiques Trail. Later, indulge in 2 hours of pampering with Spa Magnolia's Self Renewal package, a 60 minute customized facial and transformation pedicure!
Your Girls Getaway starts at just $399 per night & includes:
Two nights in an elegant Superior Room with 2 queen beds
Self Renewal Package for two – 60 Minute Customize Facial & Transformation Pedicure
Bottle of wine night of arrival
Continental breakfast for two each morning
Pricing is per room, per night for 2 nights and is exclusive of taxes and gratuities. Available for stays May 1 to June 19, 2016 with the exception of May 20-22 & May 27-29 and subject to availability of both accommodation and spa. Advance reservations required for Spa Magnolia.