Some Assembly Theatre Company presents Missing from Me, a new play with the Roundhouse Youth Theatre Action Group Project that will be on stage at in Vancouver during BC Youth Week.
Missing from Me
Where: Roundhouse Community Arts & Recreation Centre (181 Roundhouse Mews)
Tickets: Admission is Free
When: May 4 at 1:30pm; May 5 at 11:00am & 1:30pm; May 6-7 at 7:30pm. Talkback sessions take place after performances.
Missing from Me is a new and original Canadian production that brings together a culturally diverse group of youth including Mongolian, Japanese, French, Squamish Nation, Greek, Kurdish, Chinese, and Serbian.
In an unexpected twist, eleven travellers at a train station must adapt to a sudden change in their plans. Due to this situation that is beyond their control, they are confronted with life altering decisions and end up discovering true inner strength and what family means to them. Issues addressed in the play involve abuse, transphobia, and the importance of support.
Missing from Me is written and performed by Vancouver Youth: Lauren Preissl (Vancouver), Christopher Rahim (East Vancouver), Nicholas Roe (Langley), Brogan Ho (Burnaby), Tuya Mendee (Vancouver), Elodie Doumenc (West Vancouver), Joe Baker (East Vancouver), Madeleine Konst (Vancouver), Parker Phelan (Vancouver), Una Spasovski (Vancouver), and Marina Haga (Vancouver). In collaboration with Some Assembly Theatre artists Valerie Methot, Ken Lawson, Jeremy Baxter, Trena Hollands and Allen Morrison.
Nicholas Roe, a writer, performer, and poster designer for the production has worked with Roundhouse Youth Theatre Action Group Project ("RHYTAG") for two years, and currently attends RE Mountain Secondary in Langley.
"In 2014, I went to see RHYTAG perform Dream Catchers, one of my friends was in the show and I wanted to support her. After watching it, I found it to be interesting, then I listened to the feedback and thought it would be a cool project to participate in. So I decided to leave my contact information with the theatre group. That summer, I received a call asking if I was still interested in participating, and from there the rest his history. This is my second year on the project and I love it even more than the first."
After taking improv lessons at The Vancouver Theatre Sports League, and writing over 40 short stories and several poems, Nicholas is taking on the role of Luther in Missing from Me. He explains the process of having over 10 youth from around the region assemble for a collaboration of this calibre:
"Around summer time or early September, Valerie our director begins calling anyone who shared interest in participating in the project at the show or through other means. If the candidate is still interested, they are then emailed a copy of the schedule and asked if they are able to commit fully to it. Once this is established, they are sent a questionnaire to fill out, and then an interview is scheduled with our director and youth worker. After that, we all meet as a group for the first time and the writing workshops begin."
With many voices, and many topics to address in one single show, there is one thing that ties everyone's story together. "The main theme though is that the characters feel isolated with what they're going through. It's only when they start talking to each other, that they do not feel isolated anymore."
Nicholas says that each performer comes up with their own character, which they will be portraying. "The characters have their strengths and weaknesses, likes and dislikes, as well as general crap they're going through. There are a lot of topics with what each character is going through. We do our best, and no big ideas are missed."
Missing from Me is a free show, and all are welcome to attend the performances that include both matinees and evening performances. Both young and old can benefit from the insight produced by this diverse group with a very important message that includes being kind, supportive and not judging other people.
"There's a line in the play: 'No one can ever really know what someone else is going through… what someone is feeling inside'."
You can call (604) 603-5247 to reserve a spot. Leave a message clearly stating your name, phone number, date, and time of the show you would like to attend. The Roundhouse box office opens one hour before each performance in the Performance Centre lobby.
Follow BC Youth Week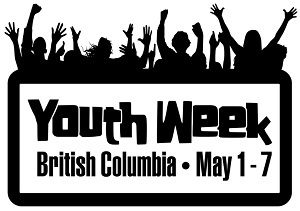 Connect with BC Youth Week is May 1-7, 2016 with events and activities for youth throughout the province. Follow along on Twitter, and Facebook for more information.
Miss604 is a proud partner of BC Youth Week