Night hikes along ice-filled canyons, airline deals, cheering on world-class athletes, and mid-mountain dining are all featured in this month's set of stories on SnowSeekers.ca.
SnowSeekers BC Snow Stories for January 2016
I get to write alongside a talented (and adventurous) team of influencers and story-tellers on SnowSeekers.ca and here are some of our highlighted stories this month: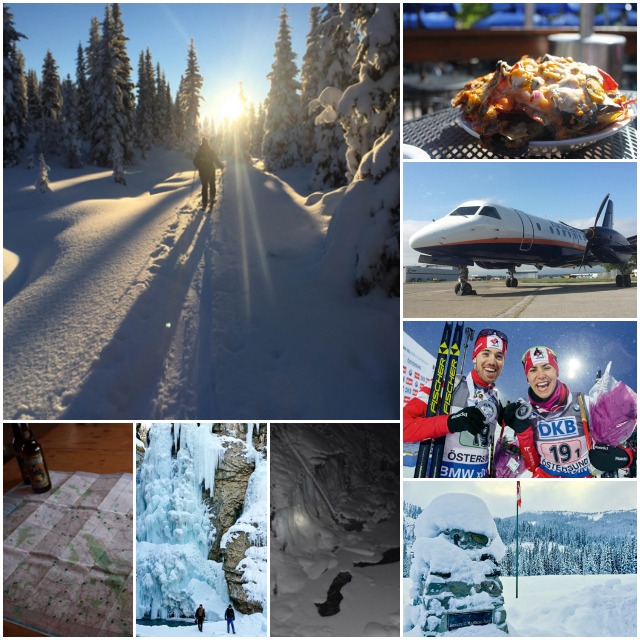 I dare ya – or, how two friends took up the "ski 'em all" challenge
Typical huh? Two buddies on a chair lift arguing over who has skied more places. But the competition went further. When Ted Allsopp and Greg Scott realized they could challenge each other to ski all of BC and Alberta, the dare was on. Did they ski them all? Can you? Check out the story of lifetime pals and the SnowSeekers Challenge here »
The Banff top five must do list
Sleds, skis, bikes, sloppy kisses and headlamps. That just about sums up the action packed list of "must do's" of Banff. You'll want to try crawling through caving near Canmore, hiking into an ice covered canyon or, riding fat tire bikes. But who are the sloppy kisses from? One word…"Woof!" Find out how to sign up for any of the adventures here »
Johnston Canyon at night is brilliant adventure
Hiking in the mountains in the daylight you are surrounded with sights to navigate your way. But what if someone turns out the lights and sends you through icy Johnston Canyon with only a headlamp? Jody Robbins found out two things; it's not that hard to see in the dark and the trees smell better. Smell better? Better read the hiking by headlamp story about find out why »
Is it raining in the Fraser Valley? Head to Manning Park!
I revisited Manning Park Provincial Park to discover how much more there is to do during winter. Only 3 hours from a soaking wet Fraser Valley you can ski, skate, tube and toboggan under a bluebird sunny sky. Yes, it's true. Find out more from my adventures through the winter playground »
Cowbells and Canmore
Canmore is hosting the annual Winter Carnival from February 1st through March 13 but this year it's the World Cup Edition! World Cup Biathlon and World Cup Cross-country events are heating the trails at the Nordic centre in February and March. That means it's time to haul out the cowbells to cheer on international athletes and the dogs. Huh? Yup, the annual Kid and Mutt race on main street will pack in the spectators at the carnival. Find out how you can participate here »
Whistler Blackcomb leaves "Hot doggin" for the slopes
Chef Wolfgang Sterr thinks the guests at Whistler Blackcomb deserve more than cheese dogs and fries. With over 6,500 forks set for lunch or dinner at 17 locations dotting the two mountains, Chef Sterr is "stirring" the pot and creating amazing cuisine to fuel the patrons. Here you can find out what to order next time you dine at Whistler Blackcomb »
Pacific Coastal Airlines says, "NO!" to baggage fees
You guys in BC are so lucky. Pacific Coastal Airlines can drop you and your skis close to over 20 ski destinations throughout the province without charging for baggage fees. Check out why this carrier "flies under the radar" yet ranks as the sixth largest airline operating at YVR. Then, decide where you want to fly for the best pow in BC »
Powder Matt finds its all "Wells" at the end of the road
Follow Powder Matt as he discovers how the town of Wells offers more than just the end of the road. Fresh bread, fresh tracks and friendly trail guides are on the list. Learn about Wells and the road less travelled here »
Follow SnowSeekers.ca on Twitter and Facebook for the latest news, updates, inside tips, and information about how adventurers of every kind can enjoy the snow in BC.