We spend time to go on wine and beer tours, learning about the inner workings of what it takes to get grapes or hops, fermented or brewed, into our glasses to sip and swirl. But what about cocktails? How do infusions work? Why whip an egg white into a creamy foam to top a drink? What's the difference between shaking and stirring? Learn about techniques, view demos, and concoct some mind-bending creations at the Science of Cocktails.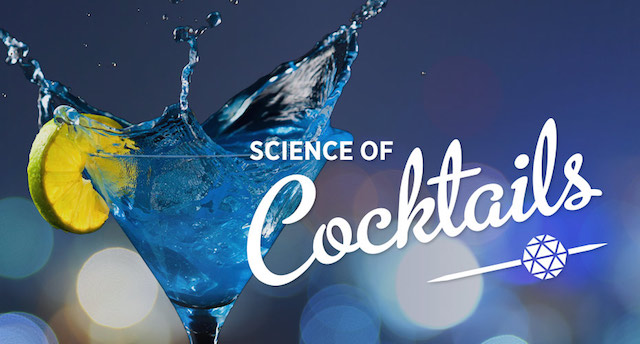 Science of Cocktails at Science World
Where: Science World at TELUS World of Science
When: Thursday, February 4, 2016 from 7:00pm to 12:00am
Tickets: Available online now. $145 general / $250 VIP. Group tickets 10+ guests are available by calling (604) 443-7500.
Cause: This event will support the Class Field Trip program at Science World. The event hopes to raise enough to invite thousands of students from under-served schools in Vancouver and the Lower Mainland to Science World one-of-a-kind experiences.
General admission ticket holders will receive open bar, ample hors d'oeuvres throughout the evening, plus access to a variety of special cocktail science activities, demos and programs. VIP tickets will receive the value added benefits of early event access (7:00pm), valet parking, access to the Diageo Reserve World Class VIP Lounge, a selection of premium cocktail offerings, passed canapes service, exclusive event programming, VIP photo opportunity and a special thank you gift.
Event Highlights
Science of Cocktails will transform Science World at TELUS World of Science into Vancouver's largest cocktail laboratory of the year. Science World is inviting Vancouverites to mix, mingle and be merry, for a great cause. This fundraising event boasts uniquely crafted libations from local, award-winning bartenders, along with mouth-watering food pairings, thoughtfully prepared by Railtown Catering.
Open bar with 25 different bar stations serving cocktails especially crafted by award-winning bartenders
Guests who fill out and drop off their Drink Passport at the event are also eligible to win prizes including a Tesla Motors package, where the winner gets to drive a Tesla for an evening; a weekend stay at Fairmont Pacific Rim for 2 people plus breakfast at ORU (valued at $780); a SmartyPantz Group Escape Experience for 8 people; and more.
Vancouver's top bartenders will be competing to win the evening's Cocktail Competition, awarded by a panel of industry judges. Winner will receive a trophy made of a 3D printed martini glass designed for
astronauts to use in space. Guests can also vote for their favourite cocktails through their drink passports; the winning bartender will be given The People's Choice award.
Doors open at 7:00pm for VIP guests and 7:45pm for general admission. Guests will learn about the Class Field Trip program at the beginning of the night, which will benefit from the fundraiser.
Demos will follow, including how to prepare a Smoked Apple Martini or an Instant Moscow Mule, as a round robin Cocktail Competition plays out throughout the night. In true Science World fashion, guests will have all kinds of stations to interact and tinker with and there will also be challenges throughout the evening where guests can win prizes.
Check out the Van de Graaff generator; create LED coasters with petri dishes, button batteries and LEDs; Customize your own wine glass charms with glow-in-the-dark and UV beads; see what happens when objects become super cooled using dry ice and liquid nitrogen; watch a friendly and fun shaker competition; take the smell station challenge and use your nose to see if you can smell the different aromatics used in gin infusions; and take a look how the volume of glassware is deceptive by participating in a martini glass illusion.
Get your tickets today and follow Science World on Twitter and Facebook for the latest event information.