Onyx Aesthetics Studio was just 10 days old when I visited to receive my first-ever CND Shellac Manicure complete with nail art. The new space on Abbott Street in Gastown was warm and welcoming, with a narrow entrance and space that opens up in the back where armchairs welcome pedicure recipients with pillows that say: "This is my happy place."
"Fashion has two purposes: comfort and love. Beauty comes when fashion succeeds."
~ Coco Chanel
I sat down facing a wall covered in quotes and inspirational art to get my new nails from a CND education ambassador, who knows the Shellac brand inside and out.
I was handed a hardcover book made by Onyx, printed with glossy images of the nail are they have done and can do for clients. Combined with over 100 options of Vinylux weekly polishes and Shellac Art Vandal spring collections, I was at a loss and couldn't decide on what to get on my fingers before leaving on vacation this winter. I literally put myself into their hands and went with the flow.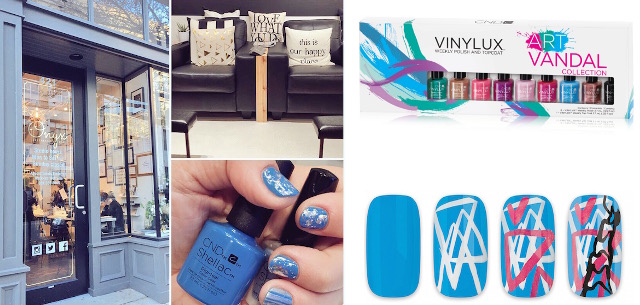 I chose blue from the Art Vandal collection and topped that with sparkly foil accents. To see how best I could spread my look across two seasons I decided it was a Christmas gift-wrapped look.
Things I learned about Shellac:
Shellac is a brand name by CND, and not actually a gel polish.
101 polishes currently available in CND Vinylux (108 in January, once the new Art Vandal collection is available) and 93 shades of CND Shellac (99 in January once the new Art Vandal collection is available).
It is non-damaging and fully removable, but long lasting (I'm going on 12 days with mine now and it's still impeccable).
Shellac is the only non-damaging fully-removable and long-lasting polish requiring no soaking, roughing, or filing of the natural nail.
It contains no formaldehyde, toluene, or DBP.
You can easily remove in-salon or at home with CND's removal kit called "Offly Fast", available at Onyx.
The entire process was very quick – unbelievably quick – and from the time I entered Onyx, got my Shellac, had a hand massage, talked to the owner, took pictures, and returned to my bus stop, I still had time on my original fare ticket to get home.
Win a CND Shellac Manicure
If you would like to try a CND Shellac Manicure for yourself at Onyx Aesthetics Studio, I have two to give away – for you and a friend! Here's how you can enter to win this experience:
Leave a comment naming your favourite nail colour or style (1 entry)
Post the following on Twitter (1 entry)
RT to enter to win a @CNDCanada Shellac Manicure for you + a friend from @Miss604 http://ow.ly/VwLX6
Follow Onyx Aesthetics Studio on Facebook and Instagram for inspiration and follow CND on Twitter for more information about the Art Vandal product line, their full Shellac offerings, and more.
I will draw one contest winner at 9:00am on Wednesday, December 9, 2015. The winner's CND Shellac Manicure will be at Onyx Aesthetics Studio.
Update The winner is Dana!