Solve crime, survive zombies, complete an undercover mission in an asylum, and have a smashing good time with your friends this month! If you're looking for all of the above, there are several places around the Lower Mainland where you can use your brains and brawn to get active and have some frightening fun as a group:
5 Adrenaline-Pumping Team Activities This Halloween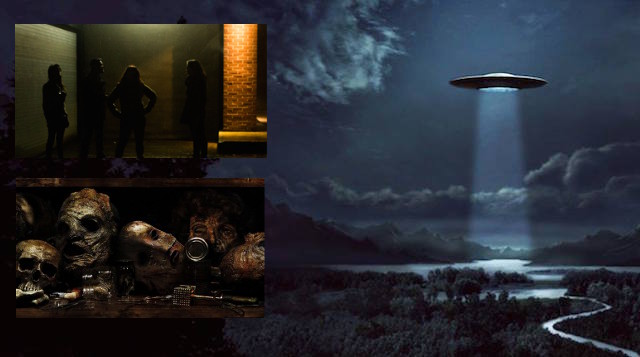 Solve a Mystery on the Streets of Vancouver
What: Crime in Downtown, Competition Nights
When: Thursday, Fridays, Saturdays until October 31st
Where: A top-secret location in downtown Vancouver, only a few minutes' walk from Waterfront Station (you'll be informed of the meeting location upon booking)
Details: "Terminal City Police Department is recruiting new detectives—you got what it takes? Solve a murder mystery with clues, puzzles, brain-teasers, twists and turns scattered across Vancouver's historic Gastown. We're putting you on one of Terminal City PD's toughest cases—the murder of journalist Jimmy Capello. Work in squads of two to five people to crack the case and compete against other teams for the top score, bonus points with the police chief and, hopefully, a promotion to detective!"
Survive Zombies
What: Alien Contagion: Rise of the Zombie Syndrome
Where: Secret Rendezvous Revealed Day Before Mission
When: Tuesdays to Sundays, October 6th to November 1st, 2015
Details: In Alien Contagion: Rise of the Zombie Syndrome, audience members can look forward to a fresh storyline involving the addition of a brand new terrifying monster – Aliens, as well as surprising sites that are fun, dynamic, spooky and full of flesh-eating zombies. This highly-interactive theatrical scavenger-hunt also features elements requiring audiences to use smartphones to navigate through the show and crack clues in their epic quest.
Escape Rooms
What: Tixe, Freeing Canada, Time Escape or SmartyPantz
Where: Various locations (Richmond and Gastown)
Details: Bridging gaming and problem-solving adventure, these escape room locations all have unique mysteries, locations, and details in their various room options where you have to beat the clock and solve puzzles to earn your freedom.
Navigate a Maze at Night
What: Chainsaw Massacre Corn Maze
Where: Maan Farms (790 McKenzie Road, Abbotsford)
When: October 1st-3rd, October 8th–31st, 2015
Details: It's not the hay ride or the flashlight nighttime corn maze, this is Maan Farms' Chainsaw Massacre Corn Maze! Leatherface and his 2 accomplices are making a stand defending the last remaining piece of their territory. Try to survive this terrifying cannibal infested corn maze, taking along your weaker friends to sacrifice if the going gets tough. Be warned! Nothing is what it seems when your heart is racing and are running away from hungry zombies!
Survive the Fearmongers Haunted House
What: Fearmongers Haunted House: Myths and Monsters
Where: 14211 Burrows Road, Richmond
When: October 23rd to November 22nd, 2015
Details: Vancouver's first fully immersive haunted house will take you through the horrors of Greek Mythology. The ancient gods are finished with mankind so you must travel through fourteen mythology themed rooms with traps, monsters, obstacles and more than an hour of haunting in order to evade their wrath. This interactive haunt will test your every limit by uncovering your most visceral fears. There's even a VIP lounge sponsored by Granville Island Brewing. So for those guests looking for a little extra bit of scare, this is for you.
Click on the links above for the most accurate times and admission prices for each attraction and activity. Many of these are not suitable for families with young children, check ahead before booking your activity.