The greatest music historian in the country is inviting us all into his world this week as CiTR hosts Nardwuar's Video Vault, a free drop-in event, on October 2nd.
Visit Nardwuar's Video Vault
When: Friday, October 2, 2015 @ 12:00pm
Where: CiTR Studios are located the bottom South West Corner of the new AMS Nest at UBC (Lower Level 500) 6133 University Blvd.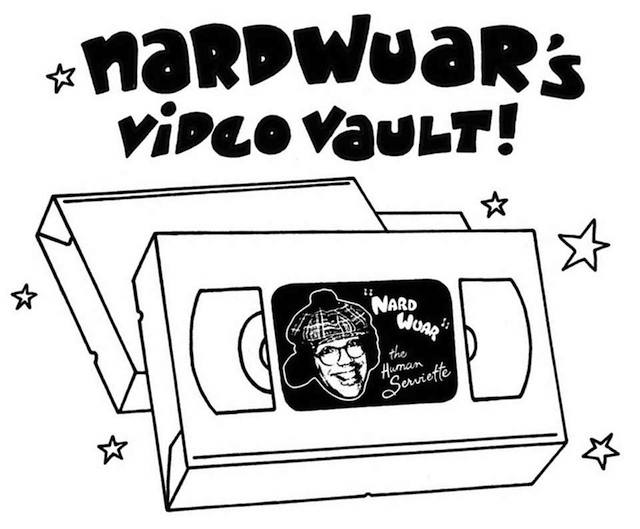 30 years ago, Nardwuar did his first interview at his High School with Art Bergmann (one of the key figures in Canadian punk rock in the late 1970s) and his band Poisoned. In honour of this anniversary, Nardwuar posted about the experience on his Instagram:
"On their 2nd EP "This is your Life" they thanked my High School in their liner notes! I was shocked! Being the president of the student council I decided they would be a great band for the first dance of the school year. The Young Canadians had broken up but Art was rockin' with his new band Poisoned. They wanted $1400 bucks and i talked them down to, um, $1398 because in my mind that number would look cheaper to the teachers! Now that the band was secured, when the night arrived I got my buddy Glen Winter to get a video camera for an interview with Art, because I just had to find out why he thanked our High School! So on Sept 26 1985 I did my first interview! Watch THE INTERVIEW on @youtube https://youtu.be/002S7Bho3jE or at Nardwuar.com Doot doo!"
Decades later, after speaking with Nirvana, Courtney Love, Tom Morello, Jack White, Katy Perry, Ed Sheeran, and dozens of other artists, he's not afraid to ask anyone, anything really. Just ask Mikhail Gorbachev.
When the New York Times published an article in early 2015 singing the praises of Nardwuar, Shawn Conner wrote on the Tourism Vancouver blog: "Vancouverites, and Canadian music fans, have long acknowledged Nardwuar – known as John Ruskin to family and friends – as a national treasure whose fearless interviewing style has endeared him to thousands of music fans. Now, millions of Americans are waking up with their morning coffee and newspaper to an appreciation of the beloved VJ/DJ/music journalist/musician."
Still going strong since that first interview in 1985, Nardwuar has over 300,000+ subscribers on YouTube, over 49,000 followers on Instagram, 124,000 Twitter followers, and his most-viewed video on YouTube is Nardwuar vs. Odd Future, which has over 4.5 million views. He's got a world-wide reputation for his unbelievably well-researched interviews and friendly, quirky, lovable style.
Since October 1987, you've been able to hear Nardwuar on CiTR radio and now this Friday you can drop-in and visit with him as he talks and plays clips from his audio and video vault of interviews. Follow the event on Facebook for more information. Doot Doola Doot Doo…