The woods are dark at night, and with the wind howling and bats fluttering overhead, you'll want to hold loved ones close — especially once Dracula, the Phantom of the Opera, and Frankenstein make an appearance. This year's Stanley Park Ghost Train will haunt and delight with its Classic Horror theme from October 9th to November 1st.
Stanley Park Halloween Ghost Train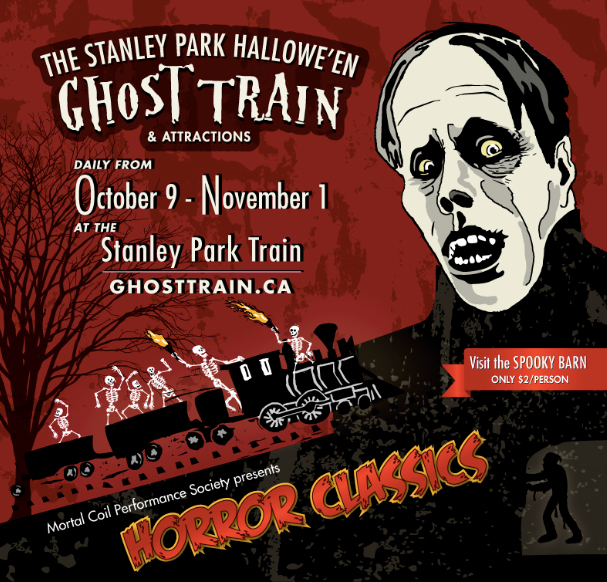 Each year, the Stanley Park Halloween Ghost Train takes riders on a journey through a mystical and magical world. The classic night train ride includes a 14-minute experience with lights, sounds, and live performers.
Back from the graveyards of yesteryear, this year's Classic Horror theme comes the most gripping, exciting, and spine-tingling creatures ever to haunt the Stanley Park Train. Witness Dracula, Frankenstein, the Phantom of the Opera, and more, as they come back to life from behind the silver screen to haunt you, chill you, and thrill you. This weird and wild adventure will take you back to a time when moving pictures dared to unearth the shadows that lay sleeping in the dark recesses of our minds.
Opening Hours
The Ghost Train is open October 9, 2015 to November 1, 2015. It will be closed October 12th for Thanksgiving Day.
Live Theatrical Performance Train
Monday to Thursday, 5:30pm to 9:30pm
Friday to Sunday, 5:30pm to 10:00pm
Matinee Train
Friday to Sunday, 11:00am to 5:30pm
The matinee train ride is a great daytime activity for families, school groups, and groups with children. There are no live performers during matinee train rides but you can view the displays.
Night Train
The classic night train ride includes a 14 minute experience following the "Classic Horror" theme with lights, sounds, and live performers.
Spooky Barn
The 2nd annual Spooky Barn is open all operating hours. Enjoy this fun, indoor, haunted addition to our family friendly event. Spooky Barn will be available for both matinee and evening show times. Admission is $2.
Tickets
You must purchase a ticket to ride the Stanley Park Ghost Train. Your ticket is valid for one Ghost Train ride and other attractions in the plaza.
TIPS:
Book online in advance to save time and to avoid sold out rides.
Avoid the crowds and come out Monday to Thursday in the first two weeks.
Tickets are sold in half-hour time slots. Several trains will depart within each time slot. Tickets are good for one train ride during the time slot shown on the ticket, and for one entry to the Train Plaza attractions. Buy online or by phone (604-252-3700) with TicketLeader. Service fees and charges apply to advance ticket sales.
A portion of tickets for each night are reserved for on-site purchase, so even if online tickets are sold out for that day, there will still be tickets for sale on-site. However, since this event is so popular, tickets for the day can sell out quickly. Full details are available online. Follow the Stanley Park Halloween Ghost Train on Facebook and Twitter.