The Salish Sea connects us all here in the Pacific Northwest, from Powell River to Seattle, Victoria to Bellingham and I love exploring opportunities that get me out on the water, whether it's on a paddle board, a whale watching tour, and especially in a kayak. I recently had the pleasure of paddling on the waters of Bellingham Bay, just 30 minutes south of the Canada/USA border with Moondance Sea Kayak Adventures.
Kayaking on Bellingham Bay
Established in 1992 by Sharmon Hill, Moondance is based in Bellingham and they specialize in Wildcat Cove Half-Day Adventures; Chuckanut Bay Full-Fay Adventures; Cypress, Jones or Sucia Island Multi-Day Adventures.
From Bellingham my group headed south, past Fairhaven, and into Larrabee State Park along Chuckanut Drive. The Chuckanut (established in 1895) is a scenic byway that used to be part of the old route to Seattle until it became and alternate to US 99 in the 1930s. With just two lanes, tree limbs bend and form a leafy canopy above the winding route with hidden driveways and the occasional viewpoint popping up, providing a window through which to gaze out at Bellingham Bay and the San Juan Islands.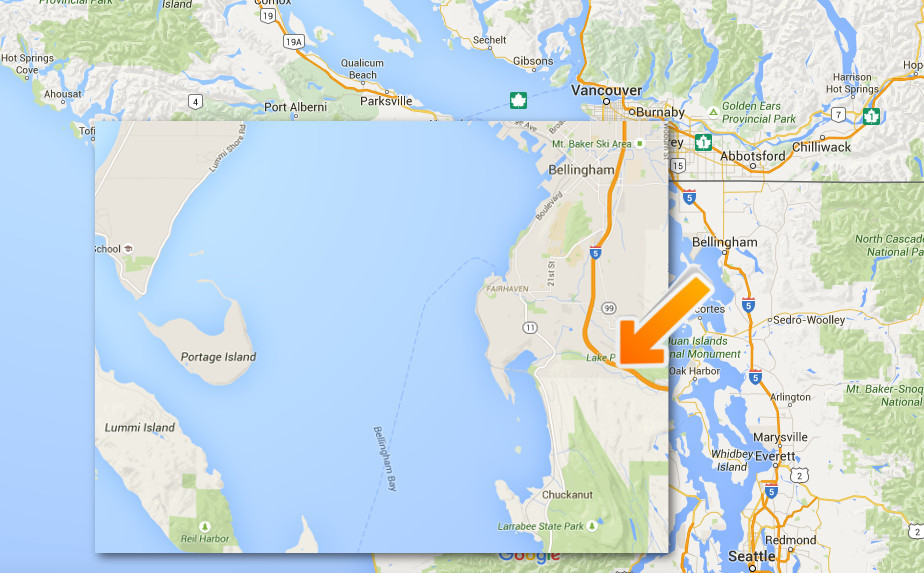 We turned down Cove Road, and parked at the boat launch at Wildcat Cove where we met Kristi Kucera, owner and guide with Moondance Sea Kayak Adventures. Kristi had a van and trailer loaded up with double kayaks for our group, and we took turns plucking each one from its perch and resting it down in the surf.
The wicked windstorm just the day before rustled up a carpet of seagrass (marine eelgrass) that lapped at the boats and coated their rudders while Kristi led us through gear application (spray skirts, PFDs) and gave everyone a safety lesson.
Our group was fairly well-seasoned, and I've been paddling the water for the last 30 years, but whenever you're in a new location, with a guide and a new group, it's always a good idea to have a full safety demo, hear about the landscape and the route you'll be taking. Chances are your guide will know more than you when it comes to navigating the waters they call home, and which you are visiting.
Once we were all in the water, everyone split into double kayaks, we cruised along the shoreline of Larrabee State Park as visitors from the nearby campground lined the shores for seaside selfies and rock skipping before the incoming tide took away the beach.
We then followed the land north of Wildcat Cove, passing impressive private residences perched just as precariously on the cliffs as the nearby arbutus trees. Kristi told us about the islands in the distance and the sandstone facades we passed that had been carved out by the sea.
The water was still fairly choppy a day after the major storm so we didn't stay out for more than two hours, but it was long enough to catch a harbour seal frolicking in the water as a sunset tried its best to poke through the dark clouds on the horizon. Returning to the cove, the air was thick with the smell of Cedar as it began to rain, which didn't phase us one bit as the falling droplets met the emerald sea.
Kristi was a very fun and knowledgeable guide, and I enjoyed hearing all about the San Juan Islands since I'm so familiar with the Gulf Islands in BC and it was great to hear about their sister chain across the border.
Moondance's half-day, full-day, and multi-day kayaking trips can take you from Bellingham Bay around Bellingham and Anacortes, or Orcas Island. They don't rent kayaks individually so you'll be signing up for a fully guided, and informative tour, which is definitely the way to go if you're just visiting the area. Reservations can be made online and their season runs from April to October. Guided tours (kayaks, spray skirts, life jackets included) start at $70 USD.