Thank you for voting Miss604.com the BEST LOCAL BLOG in the Georgia Straight's Best of Vancouver. I am honoured to have your readership, your support, your engagement, and your votes.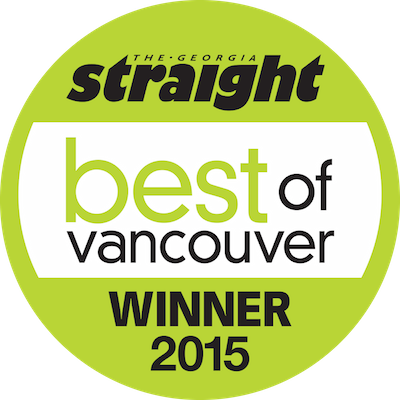 Since 2008, when the category first appeared in the paper, Miss604 has been the "Best Local Blog" winner or runner up. Since that same year, this has been my full time job.
With an office that consists of myself, a computer screen, a cool wireless speaker my husband got me for Christmas and a coffee cup that's always half full, I have built a career out of doing what I love. I don't have a staff, I don't have writers. I get up in the morning and do marketing, sales, accounting, editing, and publishing all on my own — and I love every minute of it.
I love that I can post about local history, or a personal trip to Iowa, and you, dear readers, will still read what I have to say. I love that I can put the call out for local event listings and then get 300 emails in my inbox each month so that I can promote your art show, bake sale, charity fundraiser, play, or open house. I love that I get to interview interesting people and travel to wonderful places. Thank you for making my dream job a dream come true.
Best of Vancouver 2015 Results
Enough about me! There are dozens and dozens of wonderful winners who share this honour with me, in categories that range from dog spas to bakeries and news personalities. Here are just a few of the other categories in the Georgia Straight's Best of Vancouver.
Local hero
Terry Fox
Trevor Linden
David Suzuki

Best neighbourhood
Kitsilano
Mount Pleasant
West End

Best coffee shop (independent)
Revolver Coffee, 325 Cambie
Matchstick Coffee Roasters
49th Parallel, Various locations

Best restaurant (independent)
Chambar Restaurant, 568 Beatty
The Eatery, 3431 West Broadway
Vij's, 1480 W. 11th

Best restaurant (chain)
Cactus Club Cafe, Various locations
Earls Restaurant, Various locations
White Spot, Various locations

Best restaurant patio
Dockside, 1253 Johnston, Granville Island
Hurricane Grill, Various locations
Tap & Barrel Restaurant

Best kid friendly restaurant
White Spot, Various locations
Rocky Mountain Flatbread Co.
Red Robin, Various locations

Best brewery tasting room
Brassneck Brewery, 2148 Main Street
33 Acres, 15 W. 8th
Granville Island Brewing, 1441 Cartwright St.

Most romantic restaurant
The Boathouse Restaurant, Various locations
Seasons in the Park, Queen Elizabeth Park
Chambar Restaurant, 568 Beatty

Best restaurant to take out-of-town guests to
Seasons in the Park, Queen Elizabeth Park
Salmon House on the Hill, 2229 Folkestone Way, West Van
Sandbar Seafood Restaurant, 1535 Johnston

Best ice cream
Earnest Ice Cream
Rain or Shine Homemade Ice Cream
Marble Slab Creamery

Best sustainable goods/gifts store
Ten Thousand Villages
Murata, 15 East Broadway
Meadow Gifts & Apparel, 104 Water Street

Best music store
(tie) Zulu Records, 1972 W. 4th
(tie) HMV
Red Cat Records, 4332 Main
Neptoon Records, 3561 Main

Best local TV news anchor(s)
Chris Gailus (Global)
Tamara Taggart (CTV)
Sophie Lui (Global)

Best local TV personality
Tamara Taggart (CTV)
Fiona Forbes (Shaw)
(tie) Jillian Harris (W Network)
(tie) Sophie Lui (Global)

Best artisan/craft fair
Circle Craft Christmas Market
Make It Vancouver!
(tie) Got Craft?
(tie) Portobello West Fashion + Art Market

Best local theatre company or theatre production
Arts Club Theatre Company
Bard on the Beach Shakespeare Festival
Vancouver TheatreSports League

Best public art installation in the past 12 months
Trans Am Totem – Marcus Bowcott
Gumhead – Douglas Coupland
Giants – OSGEMEOUS

Best weekend getaway
Whistler
Tofino
Sunshine Coast

Best local tourist attraction
(tie) Granville Island
(tie) Stanley Park
Grouse Mountain
Capilano Suspension Bridge

Best out-of-town spa getaway
Scandinave Spa, 8010 Mons Road, Whistler
Harrison Hot Springs Resort & Spa, 100 Esplanade Avenue
Tigh-Na-Mara Seaside Spa Resort, 1155 Resort Drive

Best hotel–Metro Vancouver
Fairmont Pacific Rim, 1038 Canada Place
Rosewood Hotel Georgia, 801 W. Georgia
Fairmont Hotel Vancouver, 900 W. Georgia

Best boutique hotel–Metro Vancouver
Loden Hotel, 1177 Melville Street
OPUS Vancouver, 322 Davie Street
Wedgewood Hotel & Spa, 845 Hornby Street
Read the full list of winners online and pick up your copy of the Georgia Straight around town on Thursday, October 1st. Follow the Georgia Straight on Twitter for more results, news, and information. Thank you again!