There are two things that we tend to do when summer reaches its peak in Vancouver: We look for ways to cool down and for ways to save money on activities and entertainment. According to a recent TD survey, 55% of Canadian parents with children under the age of 18 take on additional costs during the summer; in fact, 71% of them spend up to $999 per child.
If you're visiting Vancouver on a budget or simply looking for awesome ways to explore your hometown while being easy on your wallet, I have put together a quick list of 5 Free Summer Activities in Vancouver.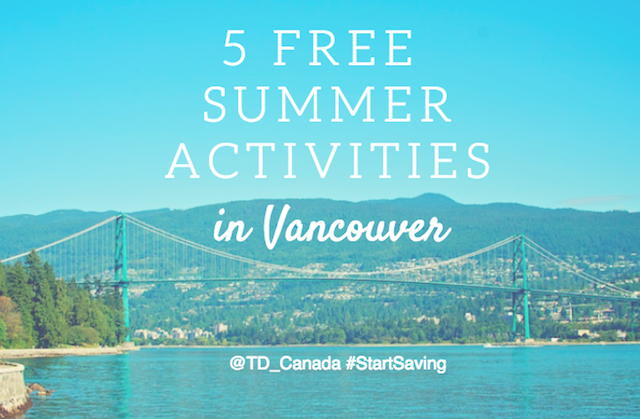 Beach
Spanish Banks, Kitsilano, English Bay, Belcarra, Deep Cove, Ambleside, White Rock, you name it! We have some beautiful beaches in Metro Vancouver and they're the perfect setting for an outing with the family. Watch the waves, build a sandcastle, play in the surf, toss a Frisbee around, and enjoy a beach blanket picnic. You can even take transit to many local beaches.
Stanley Park
Vancouver's crown jewel and our city's top attraction. Its perimeter Sea Wall filled with walkers, cyclists, rollerbladers, and runners while its forest trails provide a cool canopy under the evergreens. Spectacular lookout points, picnic tables, flower gardens, and much more to explore.

Lynn Canyon Suspension Bridge
Located on the North Shore, the free Lynn Canyon Suspension Bridge is a thrilling crossing 50 meters above the water. Complete an easy trail hiking loop then check out the cafe in the nearby Ecology Centre.
Markets
You're bound to spend money at a market but these suggestions will definitely help you save. Pick up some fresh, local ingredients for a home-cooked meal on Granville Island. Kids can play at the indoor playground in the Kids Market ($9.99), or the outdoor playground near False Creek Community Centre and the whole family can watch buskers entertain in public squares, eat some ice cream by the water, and enjoy the bustling market activity. Download coupons for the Kids Market before you go.
On Fridays check out the free Shipyards Night Market in North Vancouver, and throughout the weekend visit night markets in Surrey, Vancouver, and Richmond (market admissions range from free to $2.25 depending on the location) for more frugal shopping and entertainment.
Vancouver Public Library
Many public buildings in Vancouver provide air conditioning, entertainment, and perhaps a little learning (just don't tell the kids their visit will be educational). The Vancouver Public Library hosts story times, author talks, movie showing and LEGO parties all for free!
I know I said I would only list 5 free activities but really, there are dozens of options for inexpensive family fun in Vancouver. Free outdoor movies, free Sunday afternoon salsa at Robson Square for aspiring dancers, Take Off Fridays at YVR Airport, Fresh Air Fridays at Highstreet in Abbotsford, festivals, and more.

TD's Top Five Tips for Summer Cost Saving
Check your rewards balance – redeem some of your loyalty rewards, such as points from your First Class Travel Credit Card, to help fund activities and travel. For example, you can use your loyalty rewards to redeem certain theme park passes or tours and excursions.
The early bird gets the worm – some organizations may provide a discount on early registration; check the sign up dates and sign up in advance to save a few dollars.
Budget and start saving early – save a little money each month and put into your TFSA; online budgeting tools, visit tdcanadatrust.com, can also help you determine how much to save each month.
Shop around – municipally run activities through community centres or the parks and recreation department often offer lower cost programming.
File your receipts – some summer costs could be tax deductible as a child care expense or under the child fitness tax credit on your tax return.
Enjoy some quality time without breaking the bank! You really don't need to spend a lot to have a great time with family and friends this summer, in fact you can actually save and come out ahead by the end of the season if you follow some of these simple tips.
Follow @TD_Canada and hashtag #startsaving on Twitter for more summer saving info.