Be a tourist in your own town and discover what Surrey has to offer during Surrey Doors Open! From City Centre to Bear Creek, Newton to Cloverdale, sites and attractions will be open to the public with free admission for the day on Saturday, June 27th.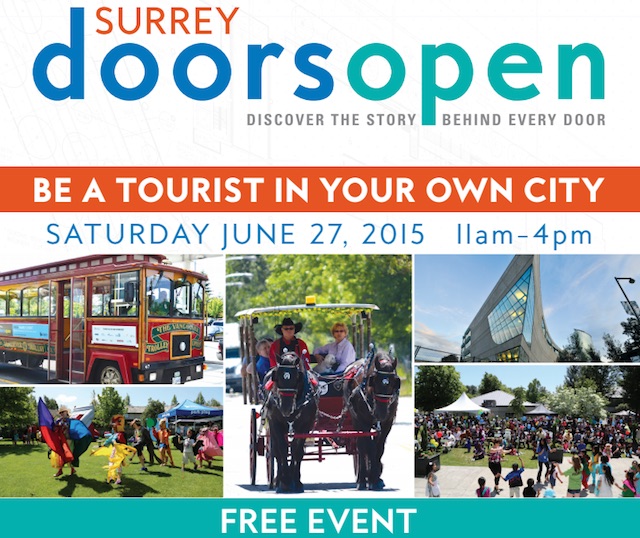 In one day you can visit the Bear Creek Park Train, do a Historic Cloverdale Walking Tour, attend the Whalley's Corner Festival, visit the Guru Nanak Sikh Gurdwara, and explore the BC Vintage Truck Museum. Guided tours, presentations, children's activities, and entertainment will be offered a a variety of venues. Take the free hop-on hop-off trolley to experience as much as you can.
Surrey Doors Open
The 4th Annual Surrey Doors Open event will provide a unique opportunity for participants to experience Surrey's rich culture, history, art and architecture for free. Over 40 locations will feature an exciting mix of historic sites, modern architecture, places of worship, public art, green spaces and unique food sites. Activities will include behind-the-scenes guided tours (many of which are not normally open to the public), presentations, children's' activities, entertainment, food and much more. Free trolley and shuttle services will make exploring a variety of Doors Open sites easy and fun.
Doors Open offers an opportunity for participants to develop a sense of inclusion and encourages community involvement. This sense of community is particularly important in a rapidly growing and diverse city such as Surrey. Last year saw attendance doubling to over 14,000 participants and with your generous support, we are looking forward to expanding participation.
The inspiration for Surrey's Doors Open stems from origins in France where the first Doors Open event (La Journee Portes Ouvertes) took place in 1984. The idea soon spread to neighbouring countries and has since expanded around the globe.

Toronto was the first North American city to follow the European lead and launched a high profile event showcasing constructed heritage, architecture and design as a millennium project in 2000. The City of Richmond has hosted the event over the last 4 years, and has grown their community involvement to over 50 open sites throughout Richmond. [History of Doors Open]
Check out the full list of Doors Open Sites, the Doors Open Site Map, and find out how you can get to Doors Open locations on Saturday, June 27th from 11:00am to 4:00pm.
For more information, see the Doors Open 2015 Event Guide and follow the City of Surrey on Twitter and Facebook using the tag #SurreyDoorsOpen.
Miss604 is a proud sponsor of Surrey Doors Open 2015