A full house is expected at BC Place on Saturday, June 27th as Canada takes on England in the FIFA Women's World Cup quarter finals. In anticipation of the crowd, with upwards of 53,000 fans attending the match not to mention thousands in bars, restaurants, and at the Fan Zone, BC Place issued a statement today to make sure everyone's ready for sunshine and soccer.
FIFA Women's World Cup Canada vs England at BC Place
Fans are encouraged to arrive at the stadium early to avoid long line-ups. Doors to the stadium open at 2:30pm and the match kicks off at 4:30pm. Traffic will be pretty hectic, and some roads around the stadium will be closed, so take transit if you can.
At the gate, bags will be subject to security checks so be sure to leave food, drinks, and banned items at home.
Dress for the sun as the roof will be open at BC Place and it does shine right down onto the stands in the north end of the stadium. Sunscreen and hats are encouraged. You can also purchase sun block at BC Place if you forget. On the 400 level there are water fountains so you can re-fill empty bottles and stay hydrated.
Free Wi-Fi is available during all FIFA Women's World Cup matches at BC Place so share some photos, have fun, and cheer on your team.
There is a VERY limited number of tickets left for the matches at BC Place. Purchase online or from the BC Place box office at Gate A. View the full match schedule online.
Win Tickets to the FINAL!
The City of Vancouver's Fan Zone will be open at Georgia and Cambie on June 27th, June 30th, July 1st, July 4th and July 5th. Leading up to the FIFA Women's World Cup final on July 5th, you can stop by the free fan zone, take a selfie, tweet it to @Miss604 #VanFanZone and you could WIN tickets! Click here for the full Fan Zone details, entertainment lineup, and schedule.
From the Match
My view for today's #CAN #ENG match. Make sure you have sunscreen on the north side of @bcplace #FIFAWWC pic.twitter.com/DRomCGxSTc

— Rebecca Bollwitt (@Miss604) June 27, 2015
Lots of #CanadaRed filing into @bcplace #FIFAWWC #CAN #ENG pic.twitter.com/69RW1LuAQk

— Rebecca Bollwitt (@Miss604) June 27, 2015
England moves on to #FIFAWWC SF, #canWNT salutes the crowd at @bcplace pic.twitter.com/tFuJepPRUa

— Rebecca Bollwitt (@Miss604) June 28, 2015
Spotted the #QueensOfTheNorth sign. #CAN #ENG #FIFAWWC #canadared #CanWNT pic.twitter.com/yfhY4qY6It

— Rebecca Bollwitt (@Miss604) June 27, 2015
Coach Sampson #ENG says @sincy12 goal cheers made the hair stand up on the back of his neck. "We knew we had to stand up strong" #FIFAWWC

— Rebecca Bollwitt (@Miss604) June 28, 2015
Coach Sampson of #ENG says he's never been in a stadium as loud and as passionate for their team as that #FIFAWWC @england #Lionesses

— Rebecca Bollwitt (@Miss604) June 28, 2015
"These fans showed the world how to support a women's game." – #canWNT Coach Herdman. #FIFAWWC #CanadaRed #CAN

— Rebecca Bollwitt (@Miss604) June 28, 2015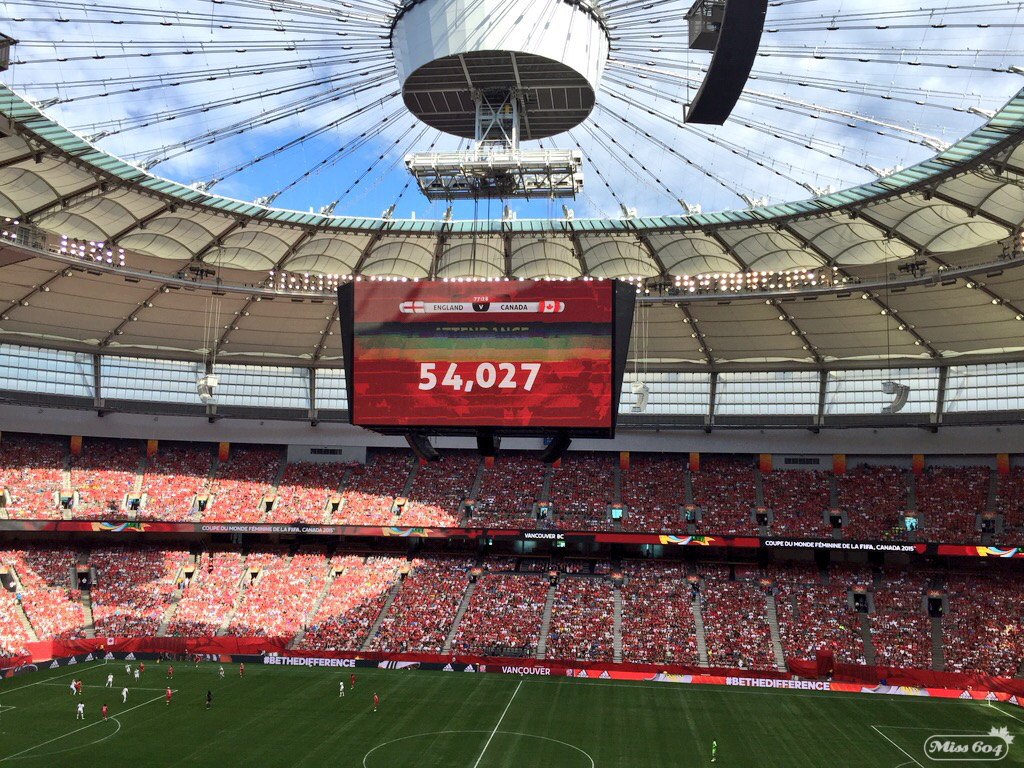 Update June 27, 2015: The attendance for the match was 54,027, breaking the record set at the previous Team Canada match at BC Place this tournament.