Jennie was referred to Covenant House at the age of 19. "[It] was the first place I've ever lived that I was safe and nobody could hurt me here. It's the first place that I've ever felt that kind of sense of belonging, it's the first place I've ever had a home." Covenant House Vancouver is sharing Jennie's story this month as it announces its annual donating matching campaign.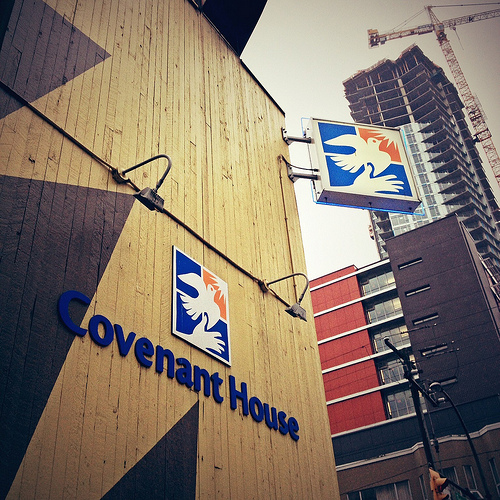 "She had been living on and off the streets since she was 10, and had attended over 20 elementary schools by grade eight. When Jennie turned 19, she left the foster care system and had no place to go."
Jennie stabilized in the Crisis Program and worked incredibly hard. Having such an interrupted education, she had difficulty reading, so one of Covenant House's volunteers helped her learn. Jennie then moved to the transitional living program, Rights of Passage ("ROP") where she found her voice.
Learning to self-advocate and assert herself were life-skills Jennie desperately needed and ROP was the perfect place for her to learn.
"I was scared; everybody had kinda turned away and I just figured they'd turn away too. I didn't really expect help because I didn't think anybody would be there or care, and I found the exact opposite, I found that they didn't just open up their doors to me, but they opened up their hearts."
It's painful to even imagine the kind of childhood that Jennie had, let alone experience it – she was sexually abused, neglected and she never heard the words "I love you". Coming to Covenant House marked the beginning of a whole new life for Jennie and she is grateful to donors, for your support of young people like herself.
Read all of Jennie's story, and many others from Covenant House youth, to learn about the impact and services of Covenant House.
Covenant House June Matching Campaign
I have come to know, appreciate, and support the work of Covenant House, through fundraising events and participating in their annual Sleep Out in November. A quote that I jotted down at one of these events has stayed with me: "Many of the kids have lived with violence or the threat of violence for much of their young lives. Feeling safe is a right we all have but one these kids have not enjoyed."
No child should be homeless. You can help by making a donation online today, before June 30th, and it will automatically be doubled at no extra charge to you. Follow Covenant House on Twitter and Facebook for more information.