Having a dream backed by a lifelong passion is one thing, but it takes a leap faith – and a lot of perseverance – to make that dream a reality. Local singer/songwriter Joline Baylis has embarked on a journey to make music her career, punching out of day job and committing to her dream of being on stage.
"I had this idea that unless you can be famous, don't bother," Joline, who is actually a former classmate of mine from high school, told me over the phone this morning. She admits that while she's played for 20 years, she had never considered taking the step to the next level until very recently. "I just never thought it was something I could actually live off of so that's what I'm trying to do now for the first time."
"Music wasn't even something I was thinking about at all but it just kind of became a big part of my life. It's almost like it built its own momentum and it's just been carrying me along — sometimes willingly sometimes less willingly. It's like okay, I'm in for it, I'm along for the ride."
Last year Joline left her office job and took up busking for a living. She found a sustainable niche playing on the streets and seawalls of Vancouver, providing a soundtrack for audiences captivated by a sunset at English Bay. "People are already there relaxing, watching the sunset, and they'll tend to stick around for a few songs, buy a CD, and keep in touch. They actually do become fans."
Eventually she found herself stuck in first gear, with hesitation about her new career path building. "I can support myself with busking, and I did that for about a year. But at this point it's a lot of playing, and a lot of repetition since you're playing the same songs every day, sometimes three times a day. It becomes a grind, even like a day job, which is the whole reason I wanted to get out of office work in the first place. It's a routine and I didn't want to do that to music."
Music, Joline explains, is about giving something of value, and it has a real power to move people when the musician is feeling that same vibe and not standing in front of a crowd projecting their own stress and anxiety about making ends meet. Her new focus is on recording, touring, and kicking her career into that next gear with an Indiegogo campaign for her first album.
"It's interested because you find out that 'the dream' is nothing like what you imagined it would be. Especially nowadays the way the industry is, the way that social media is involved. As an independent artist there are so many ways to live that dream. You can make your own way and there's obviously an industry that you need to work through but there are also so many avenues to express yourself and create your own opportunities, which is encouraging."
She credits much of her newfound momentum to her collaborators, such as Kenton Loewen (Dan Mangan and Blacksmith, The Crackling), Wynston Minckler (Bocephus King, Tim Sars) and Paul Pigat, who has played with the likes of Neko Case and Carolyn Mark.
"I wouldn't be doing music at all if it weren't for the people that I've met who have helped me, played with me, encouraged me, and taught me. It's a very supportive team." Joline admits that she's almost glad that this album didn't happen sooner because at this point she feels it's happening the right way, in a professional manner.
Trusting her gut, and her talent, has got her this far and she's looking forward to what lies ahead. "I still have a lot to learn but I'm excited because once I know how things work a bit more and what the tasks are that need to be done, then it's a lot easier to do them. Motivation comes then when you feel like you can start to make some headway and be productive."
At time of publishing, there are 11 days left to support Joline's dream via the Indiegogo campaign for her debut album. Perks include everything from digital downloads and show tickets to hand-knit fingerless gloves (another talent of Joline's), to art prints and producer credits. She will then record at Afterlife Studios (in the legendary Mushroom recording space), under the guidance of John Raham.
Upcoming Show + Links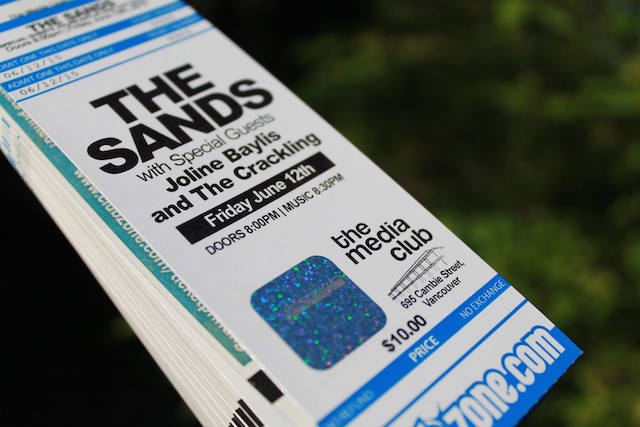 On June 12th you can catch Joline at the Media Club playing with Kenton Loewen and Wynston Minckler, in support of The Sands (Julie McGeer, Peggy Lee, JP Carter, Paul Rigby, Patrick Metzger, Barry Mirochnic) with The Crackling (Kenton Loewen) opening the night.
Tickets are available at Highlife, Red Cat and Zulu Records, or can be purchased directly from members of the bands.
Follow Joline on Twitter, Facebook, and her campaign's Facebook group for more information. Her Indiegogo campaign ends on Friday, May 22, 2015.