Vancouver's official City Bird for 2015, the Black Capped Chickadee, is retiring by giving up its adorably fictional crown and scepter and stepping aside as a new Vancouver City Bird is voted in this season. With over 700,000 votes in the competition last year, and 4,000 tweets about #VancityBird during the voting period, the popular campaign is back again this year to raise awareness about birds in Vancouver.
Vancouver City Bird 2016
Candidates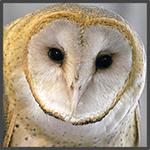 Barn Owl: One of the most beautiful of its kind, with large eyes for night vision and a nocturnal lifestyle, the Barn Owl keeps to itself like other owls. It has a silent wing beat, so that its prey does not hear it coming. A denizen of grassy meadows, where it catches rats and voles, the Barn Owl roosts during the day in hollow trees and vacated buildings. Follow on Twitter @heyitsbarnowl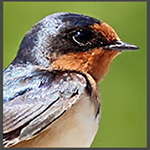 Barn Swallow: With a forked tail, the Barn Swallow is quite a dapper little bird. Perky and very chatty, it keeps up its busy schedule on a diet of insects. The Barn Swallows arrive here in April to build signature mud cup-shaped nests on rafters or walls of buildings. They readily take to open buildings occupied by humans. Follow on Twitter @thebarnswallow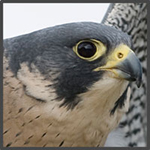 Peregrine Falcon: The Peregrine Falcon is the avian equivalent to the stealth bomber. With incredible eyesight, it appears out of nowhere in a blinding flash to snatch unsuspecting birds from the ground or in short aerial pursuits. The dive is one of nature's great spectacles. Few animals escape its attention, and it strikes fear into the minds of many. Follow on Twitter @vanperegrine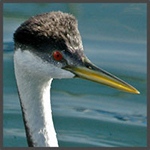 Western Grebe: An elegant creature with a long neck, the Grebe moves gracefully along the water surface and submerges on long dives. Grebes feed at night and raft up in large flocks during the day. During courtship, pairs will rise up on their feet and scurry off across the water in a highly memorable choreographed dance. Follow on Twitter @WesternGrebe

Events
Get involved in the discussions with bird experts, birders, and City Bird candidates at one of the following events on Twitter:
Thursday, April 30, 2015 Ask a Birder Twitter Chat
Experienced Vancouver birders will answer your questions on birdwatching in Vancouver on Thursday, April 30 from 12noon to 1:00pm. Use #VancCityBird to keep up with the chat and ask questions.
Tuesday, May 5, 2015 The Great #VanCityBird Twitter Debate
Candidates will have an uncensored Twitter debate hosted by the Vancouver Park Board on Tuesday, May 5 from 12 noon to 1:00pm. Use #VanCityBird to keep up with the debate and suggest questions.
Vote
Voting is now open online until May 9, 2015. Read more about Vancouver Bird Week in this guest post by the Stanley Park Ecology Society.