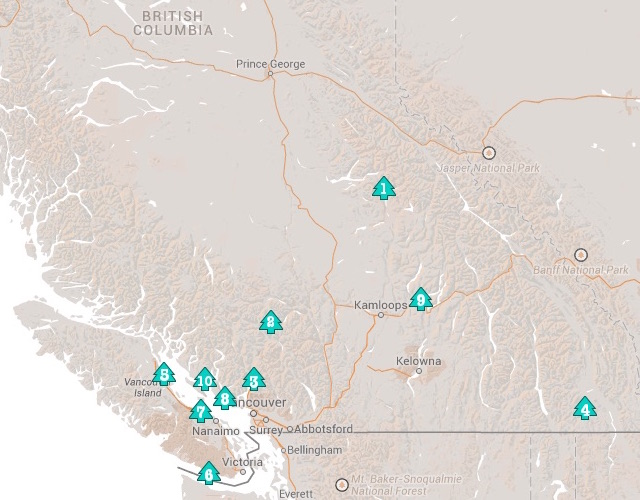 Call it a wish list, bucket list, or a "I must camp there again" list but I've been eyeing the BC Provincial Parks website lately and my urge to unroll my sleeping bag and toast s'mores by a campfire has been rising. When I was young we used to go on a week-long camping trip every single summer and by the time I was 10 I could name more BC Parks campgrounds than I could streets in Downtown Vancouver.
With the reservation system up and running for the summer, and the evergreens calling, I have put together a list of 10 BC Parks to Visit For Camping Season:
The farthest from Vancouver, I had to include Wells Grey even though I haven't been there in 20 years. With 540,000 hectares in the Cariboo Mountains it has volcanoes, waterfalls, mineral springs and glaciers. It has something to offer every outdoor interest: lush alpine meadows, excellent birding and wildlife viewing opportunities; hiking for every ability, ranging from a few minutes on a level trail to many days with a map and compass; boating, canoeing and kayaking.
The park was expanded by 684 hectares in 2008 to include more of the alpine headwaters of the western side of the Sockeye Creek watershed. The park protects important habitat for a variety of wildlife, including spotted owls, mountain goats, black bears and grizzly bears. Old growth forests, subalpine and alpine environments, large and small lakes all contribute to the park's diversity.
A favourite family park along the Sea to Sky, Alice Lake is surrounded by towering mountains, dense forests and grassy areas. There are four fresh water lakes that dominate the landscape and make swimming and fishing very enjoyable pastimes. The trail around Alice Lake is a popular one for an evening stroll and for the more adventurous there is the Four Lakes Trail.
Located 20 kilometres south of Cranbrook off Highway 3/95, Moyie Lake Park day-use area, boat launch and 111 site campground provides the only public access to the deep blue mountain waters of Moyie Lake. This vacation friendly park features 1300 metres of developed sandy beach backed by a large grassy area. Swimming, wind surfing, sailing, boating, wildlife and bird viewing along with an adventure playground and hot showers are on site.
Located on the waterfront midway between Courtenay and Campbell River, a broad sandy beach on the ocean is the main attraction at Miracle Beach, which also features spacious private campsites, group camping facilities, a playground for the kids, hot showers, a large picnic area overlooking the water and a series of lovely trails winding through lush forest. At low tide, the beach features rich tide pools, perfect for observing a variety of marine life.
China Beach Campground is a part of Juan de Fuca Provincial Park and the Juan de Fuca Marine Trail, which follows 47 kilometres of wilderness stretching along the western shoreline of the southern Island. The China Beach campground is just off Highway 14 and features amazing beaches and day use areas a short 1km hike away.
We talk a lot about sunsets on the west coast but in Parksville on Vancouver Island, particularly at Rathtrevor Beach, you'll wake up to spectacular sunrises. The park features majestic old growth trees and an inviting, wide sandy beach with campsites nestled amongst mature Douglas fir trees. At low tide the ocean recedes almost a kilometre, providing an ideal place for visitors of all ages to play in the sand and explore the shoreline. When the tide rolls in over the sun-baked sand, the warmed water is unbeatable for swimming and salt water fun.
Porpoise Bay Provincial Park on the Sunshine Coast offers many opportunities for coastal fun and is a favourite family park. This park is characterized by second-growth forest, open grassy areas and sandy beaches, and is an excellent base camp for paddlers exploring the Sechelt Inlet.
A very popular destination, the park operates at capacity from early July to Labour Day (early September). Situated on the old delta of Scotch Creek, it has one kilometre of sandy, pebble beach, and includes the whole of Copper Island. The park also offers a large grassy play area, an adventure playground, a large boat launch, and a self-guiding nature trail. Supplies, groceries, and many recreational opportunities including bumper boats, mini-golf driving range, go-carts, para-sailing, horseback riding, whitewater rafting, boat and jet-ski rentals are offered by near-by businesses.
Lush forests with large, old trees create a quiet setting for the campground at Mermaid Cove. At low tide, the rocky shoreline often has tidal pools with starfish, sea urchins, small fish and crabs. Scuba diving provides a close-up look at the abundant marine life and a 3-metre bronze mermaid statue. From the shore, orcas and sea lions can sometimes be seen.
If you're looking to stay close to home, here are the closest BC Parks available for camping, within a 90 minute drive of Vancouver: Sasquatch Park; Golden Ears; Cultus Lake; Rolley Lake; Porteau Cove; Alice Lake.
You can read about more camping locations (from all parks services) in this post, and click here to find out about camping in north west Washington State.