Top Drop is Vancouver's newest wine event, featuring 24 terroir-focused wineries from around the world alongside a handful of like-minded craft breweries and local food purveyors. In a city that sees its share of wine events, Top Drop aims to stand out with its selection of global wineries that produce wines reflective of, and unique to, their locations, sharing core values with local producers in BC.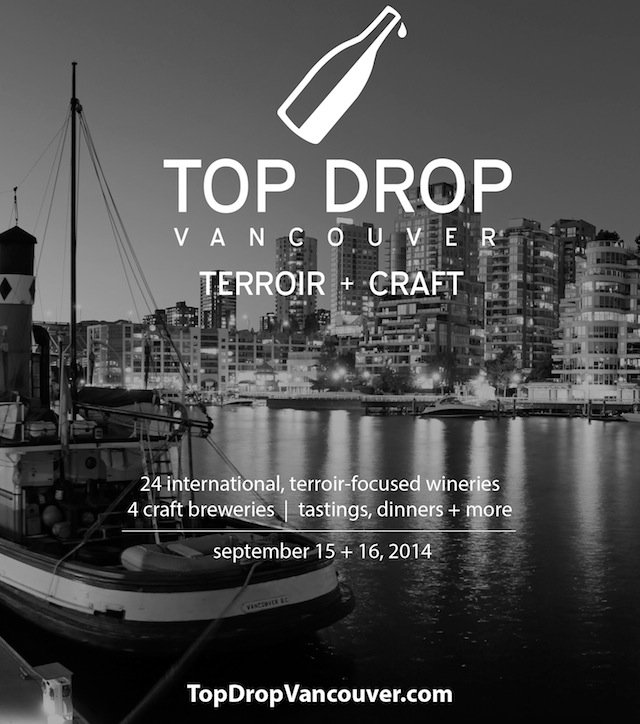 What: Top Drop Vancouver: The Main Event
When: Tuesday, 16 September 2014 at 7:00pm
Where: Heritage Hall, 3102 Main St
Details: 24 terroir-focused wineries, 4 craft breweries, cured meats, artisan cheese & more!
Tickets: On sale now online for $49 (plus fees/tax) with event proceeds going to the BC Hospitality Foundation, which provides financial support to hospitality industry members facing a major medical crisis.
"There are a lot of big marquee blockbusters out there, so think of this as the Sundance Film Festival of the wine world," Top Drop Co-Founder Kurtis Kolt told me by email.
"There's been a big movement over the last few years in so many Vancouver restaurants and retail stores from bigger-production, often homogeneous wines to more craft-oriented wines that truly reflect the terroir of where their vines grow. Less manipulation in the winery means wines of integrity that truly offer a sense of place. Since this is the direction many in the local wine scene are going, I thought it was time for an event that really focused on these kinds of wines and the people behind them."
Another key element will be Top Drom Somms, a fleet of Vancouver's best sommeliers — in partnership with BC Chapter of the Canadian Association of Professional Sommeliers — who will float around the room assisting guests with wine queries and offering their expert recommendation. Kolt says that having a direct line to these top sommeliers will boost attendees' wine knowledge exponentially. "Since we've assembled such a broad range of wineries, we thought it would be the perfect place for people to feel free to ask those wine questions that come up when shopping or looking at a wine list."
Top Drop Vancouver Participating Wineries
Decero, Mendoza, Argentina
Jean Bourdy, Jura, France
Musella Winery, Veneto, Italy
Planeta Wines, Sicily, Italy
White Rose, Dundee Hills, Oregon, USA
Dominio Del Plata, Mendoza, Argentina
Nichol Vineyard, Naramata, BC, Canada
Radio-Coteau, Sonoma, California, USA
Stoneboat Vineyards, Oliver, BC, Canada
Caves Sao Joao, Bairrada/Dao, Portugal
Koyle Family Vineyards, Colchagua, Chile
Remoissenet Pere et Fils, Burgundy, France
Lake Sonoma Winery, Sonoma, California, USA
Kunde Family Estate, Sonoma, California, USA
Château de Montfaucon, Côtes du Rhône, France
Farm Collective, Napa Valley, California, USA
R. Lopez de Heredia Vina Tondonia, Rioja, Spain
Ridge Vineyards, Sonoma County, California, USA
Tantalus Vineyards, Okanagan Valley, BC, Canada
Domaine de l'Hortus, Côteaux du Languedoc, France
Blue Mountain Vineyard, Okanagan Falls, BC, Canada
L'Ecole N° 41, Walla Walla County, Washington, USA
Stoller Family Estate, Willamette Valley, Oregon, USA
Neely & Foxglove, Santa Cruz Mountains, California, USA
"It made sense for us to show a breadth of wine styles by working with wineries from many countries to illustrate what makes a Pinot Noir from Oregon different and unique from a Burgundian version, for example."
Kolt added that wineries were chosen based on their dedication to their craft, which includes making wines expressive of terroir (the set of special characteristics that the geography, geology and climate of a certain place) with an honest sense of place.
Key principals of many of the wineries will also be in attendance along with four craft breweries: Brassneck Brewery (Vancouver), Breakside Brewery (Milwaukie, Oregon), Four Winds Brewing (Delta), and R&B Brewing (Vancouver).
As for the BC wineries, Kolt believes they can stand shoulder-to-shoulder with the best regions in the world, "It was a no-brainer to have a good home-team showing."
There will also be a Top Drop Dinner Party on Monday, September 15th, a day before the Main Event. For more information follow Top Drop on Twitter and Facebook, and purchase your Main Event tickets online before they're all gone.