Every month I put together a list of events to look forward to around the city with festivals, markets, fundraisers, pub nights, and everything in between. While I look ahead I also like to take a look back and share what happened each month around Vancouver. Thanks to Chuck Davis' legacy, The History of Metropolitan Vancouver, I have put together a list of things that happened in Vancouver throughout history, in the month of September:
September 2, 1927
On this day in history (September 2nd, 1927) Jonathan Rogers sold his namesake "Rogers Building" at the corner of Pender and Granville for $1 million to General F. A. 'One Arm' Sutton. At the time, it was the biggest real estate transaction in the city's history.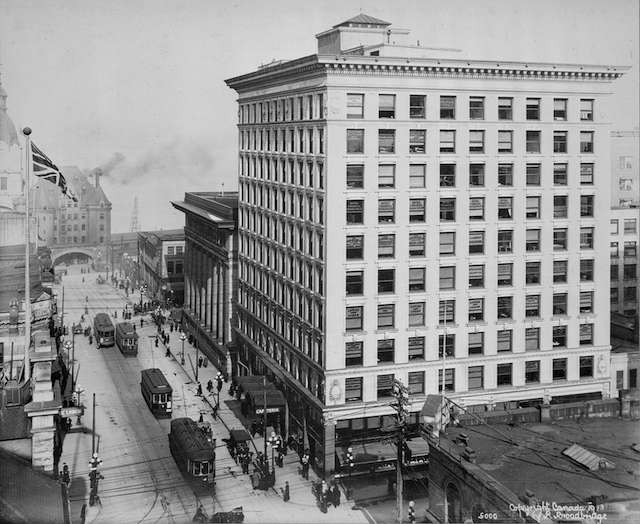 September 3, 1929
Winston Churchill, Britain's former Chancellor of the Exchequer visited Vancouver today and gave a talk at the Vancouver Theatre on Granville Street. He became extraordinarily famous a decade later, when the Second World War began.
September 4, 1918
Vancouver's first plane crash happened at the home of Dr. J.C Farish on the corner of Bute and Alberni. Chuck Davis writes:
"Piloting the little plane was Lt. Victor Bishop of the RAF, a seasoned pilot who had seen (and would see more) action in the First World War. Bishop's plane dropped like a stone and fell on the roof of a house owned by Dr. J. C. Farish at the corner of Bute and Alberni Streets. Bishop was not seriously injured. In fact, he stepped out of the plane into the upstairs hallway of the house and, with the assistance of one of the residents, walked down the stairs to the front door and outside through a gathered crowd to a waiting ambulance."
September 5, 1940
The provincial government's wartime order-in-council required all school children in BC to salute the flag and sing God Save the King at least once a week.
September 7, 1968
Jimi Hendrix played the Pacific Coliseum in Vancouver today. During the show he acknowledged his grandmother, who lived here and was also in the audience. The Jimi Hendrix Shrine in East Vancouver today is located near his grandmother's old restaurant, Vie's Chicken and Steak House.
September 8, 1979
The Vancouver Whitecaps won the North American Soccer League championship in New York against the Tampa Bay Rowdies.
September 11, 1898
The New Westminster Fire was finally out after two days of destruction that destroyed almost the entire downtown leaving hundreds homeless. The Burr Block was one of few buildings that remained, and is still around today.
On September 13, 2020 – 122 years later – a large fire at New Westminster's Pier Park destroyed part of the pier and a beloved piece of public art.
September 14, 1928
Percy Williams returned to Vancouver today after winning two gold medals in track and field at the Amsterdam Olympics.
September 15, 1911
North America's biggest bank-vault robbery to date happened in New Westminster. Varying reports of five or three men, bound and gagged a janitor at the Bank of Montreal and got away with more than a quarter of a million dollars (which would be about $6.5m today).
September 16, 1884
CPR President William Van Horne recommended today that the town at the western end of the railway's line be renamed Vancouver. It had been called Granville until that time.
September 17, 1995
General Motors Place opened today as a new home for the Vancouver Canucks. Today it's known as Rogers Arena.
September 22, 1887
Under the chairmanship of Alderman R. Clark, the Vancouver Board of Trade was formed on this day.
September 24, 1977
The Gastown Steam Clock was dedicated.
September 25, 1911
Park Drive in Vancouver was renamed Commercial Drive.
September 26, 1971
The Stanley Park Seawall was officially opened today. Jimmy Cunningham began building the Seawall in 1917 and over several decades it grew, bit by bit.
September 29, 1950
The Sunset Community Centre opened today and received a very special call from none other than Bing Crosby to mark the occasion. Crosby was fond of BC and a year later he managed to visit the community centre in person.
Sources: Vancouver History. Related Posts: January 1st in Vancouver History, February in Vancouver History, March in Vancouver History, July in Vancouver History, August in Vancouver History, September, October in Vancouver History, November in Vancouver History, December in Vancouver History.