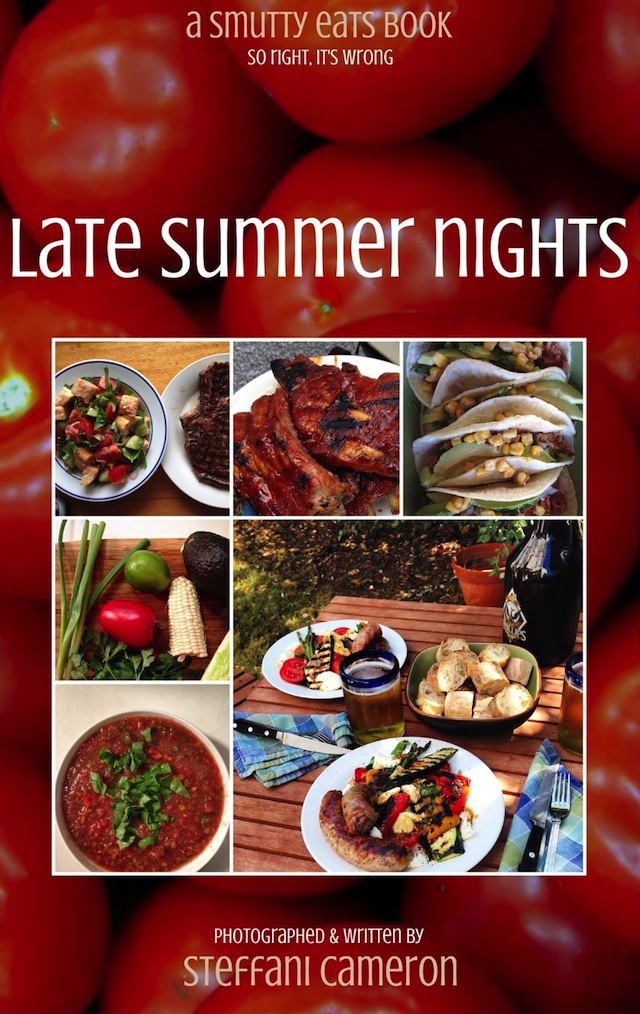 There are certainties in life such as death, taxes, and that you'll find photos of other people's food on Instagram. Based in Victoria, Steffani Cameron is one of said sharers of food photos; however her descriptions, sharp photography, and lessons about shopping local added so much substance to her online postings that she was compelled to reach beyond social media and write a cookbook.
Known as SnarkySteff on her Twitter and Instagram accounts, Steff's writing style is blunt, bold, and refreshing, which is exactly what you'll find with her recipes in her new e-cookbook Smutty Eats: Late Summer Nights. From salads, mains, sides and soups, dips and spreads, to snacks, it's a no-nonsense guide to eating well at home with fresh, local ingredients.
Steff has been blogging since 2004, on Twitter since 2008 (formerly known as SmuttySteff), cooking since she was 5 years old, and she to used teach teen cooking camps. Her online following has been asking her to share recipes for a long time, and some have even encouraged her to open a restaurant. She figured the cookbook would be "the lesser of two evils" and so she self-published this summer.
"As I got into it I started feeling more and more political about it, like how cooking is a political action now. I mean, we fetishize restaurants, we turn chefs into celebrities, and all this kind of shit when you know, really, you can do it at home. You don't need to go spend all of this money."
"Real food doesn't need to be complicated. I'm a lover of rich and decadent flavours, but also bright, crisp contrast. I've picked a variety of recipes I hope make your late summer harvest nights special yet simple." ~ Late Summer Nights
Steff and I have been friends for a few years now, and naturally we met through the blogging and social media scene in Vancouver. She's been living in Victoria for the last two years and I had to ask if the change of scenery helped inspire her cooking.
"Even the first year when I moved [to Victoria] and money was tight, I found myself making different choices as often as I could."
"I can't buy packaged bacon anymore because I've been spoiled by the quality that's offered here. Everybody's doing their own bacon from some local pig and they're curing it themselves, and it's different at every store. It's never wet or bloody or anything like that. I mean it's night and day from what I used to eat in Vancouver."
Steff encouraged me to look up some figures on Vancouver Island's food resources over the last few decades. I found a report out of the University of Victoria that says 50 years ago, Vancouver Island produced 85% of its own food. Today, island farms produce about 5% of all of the food consumed (MacNair, 2004).
"I think that what's happening in Victoria is a lot of people in my generation, in your generation, are coming back and starting farms, starting artisan meat shops and they're really trying to use the best of local product. And I don't know if it's the restaurants putting it on the public or if the public has demanded it but one way or the other it seems like it's more authentic than what's going on in other cities. Everybody's just really invested in trying to have a local food scene that's strong again."
In Smutty Eats: Late Summer Nights you'll find recipes for Bacon & Egg Salad, Drunken Gazpacho & Parmesan Toast, Cocoa-Chilli Pulled Pork, and Salted Chocolate Popcorn with Honey & Coconut Oil among others.
Steff said they were inspired by her own ideas of what she wanted to eat. She would go to the internet, do searches, look for recipes, and when she found no results or something close enough to what she was looking for, she would give it a try.
One of the recipes was inspired by a restaurant dish, from a place that had closed down. Through trial and error she was able to replicate the dish and once again enjoy its flavours. She takes risks, they pay off brilliantly, and she's now sharing them with the world.
"If you go and look at the recipes they're just written differently because I am so conversational in the style and then I'm telling the reader so much about why I've chosen that dish, throwing in weird little tips along the way. It's a really big departure in some ways from other cookbooks so I wasn't sure if there would be an audience for that."
Within days of releasing the book, Steff's received encouraging feedback and has found that people really appreciate not only her cooking style, but her writing. "Cooking is fun. It tastes good, it should be rewarding, it should be good for your soul, it should be a creative outlet."
Check out Smutty Eats: Late Summer Nights for yourself, it's available now on Amazon for $6.49CAD.