#WhatsTheLink is a series about all that TransLink, Metro Vancouver's transportation authority, is responsible for in the region. Learn more at Translink.ca/WTL and join the #WhatsTheLink conversation on Instagram, Twitter, Facebook, The Buzzer Blog, and here of course!

For this last post in the #WhatsTheLink series, I'd like to revisit the subject matter of the last seven posts. Don't worry, there's no test or poll at the end of it, just a chance to win a 3-Zone FareCard! What do you have to do to win? Well, read on and you'll find out.
#WhatsTheLink: TransLink is the Link to Better Travel Choices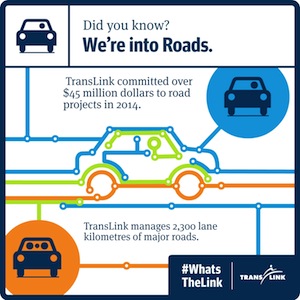 The Major Roads Network
Did you know that Kingsway is part of TransLink's Major Roads Network? Yup, it contributes to the 2,300 lane Kilometres of major roads in Metro Vancouver, for which TransLink is responsible.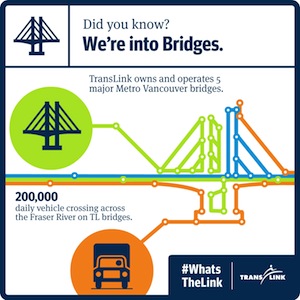 Five Bridges
Besides roads, TransLink is also into bridges — five of them in fact! They are the Knight Street, Golden Ears, Pattullo, Westham Island and the Canada Line Pedestrian-Bicycle bridges. Every day, 200,000 crossings happen on those TransLink bridges over the Fraser River!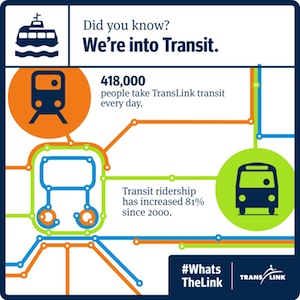 Transit
Most people know TransLink for public transportation. What many people don't know is how well used our public transit is. In terms of numbers of riders, 418,000 people take TransLink transit every day in Metro Vancouver!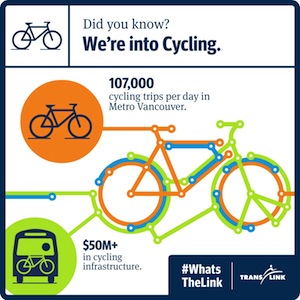 Cycling
TransLink is also about cycling. Part of TransLink's multimodal mandate is to help support the people making the 107,000 bike trips each day in Metro Vancouver. That includes making cycling easier and safer by opening the first secure bike room on the system this May!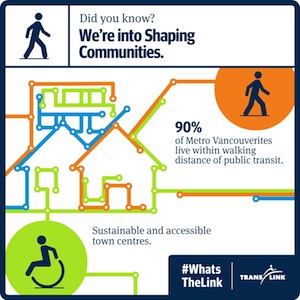 Shaping Communities
Great transportation is as good as the planning behind it and around it. Transit has been part of shaping where people have lived and worked in Metro Vancouver for over 100 years. TransLink has helped shape sustainable communities by integrating with community planning throughout the region. With future Transit Oriented Developments in the works, TransLink is actively involved in carry on this legacy.


A Connected Transportation System
Being a multimodal organization in charge of public transportation, the Major Roads Network, five bridges and cycling infrastructure means TransLink can seamlessly connect all modes of transportation. But in order to do this well, you need a reliable transit system.
The public transit modes we provide are bus, SkyTrain, SeaBus and West Coast Express. All modes work hard to get you where you and your goods need to go.
The roads, public transit and infrastructure that TransLink helps to provide are integral to the economy of Metro Vancouver. TransLink manages major roads and helps to ease traffic congestion so that you can get the coffee, medical supplies and almost anything you can buy at a local store, hospital, school and more.
#WhatsTheLink Contest
We all get around the region in different ways. TransLink helps you get to where you're going by helping out in four key ways: transit, cycling, walking and driving – What's your favourite way of getting around?
Enter to win one of two 3-Zone FareCard ($170 value) for either August or September 2014. Here's how:
Leave a comment below telling us your favourite way of getting around Metro Vancouver (transit, cycling, walking or driving) (1 entry)
Regram any of the images in this post, including @Miss604 and @TransLinkBC #WhatsTheLink (1 entry)
Post the following on Twitter (1 entry)
[Contest] @TransLink is the link to better travel choices RT to enter to win a Fare Card http://ow.ly/yVStX @Miss604 #WhatsTheLink
Contest ends Tuesday, July 15, 2014 at 11:59pm. The winner will be drawn at random. Thanks in advance for entering our contest and learning about what TransLink does in your region.
Update: The winners are Ceci and @elephantprose!