It's Pride Week in Vancouver and that means there will be no shortage of events for the LGBTQ community and beyond. From Pride Trans Youth Night to the Davie Street Block Party and the Vancouver Dyke March, these diverse and inclusive events showcase not only Vancouver Pride but they invite the world to our fair town to celebrate as well. The biggest of all events is the world famous Vancouver Pride Parade, which draws over half a million spectators downtown each year.
Vancouver Pride Parade 2014
Ever since we have lived in the West End (going on 9 years now) John and I have enjoyed watching the pride parade because it is so cheerful, inclusive, fun-filled, and vibrant. It has great music, exciting floats, happy faces, giveaways, and everyone from church groups and bands to community organizations and businesses take part. In fact a few years ago I was on the London Drugs float, which was such a fun experience. Here's all you need to know about this year's Vancouver Pride Parade:
When Sunday, August 3, 2014 from 12:00pm to 3:00pm
Where The parade begins at Robson Street and Thurlow Street, heads west to Denman Street, follows Denman to Pacific Street and Beach Avenue and finishes at Sunset Beach Pride Festival and Market.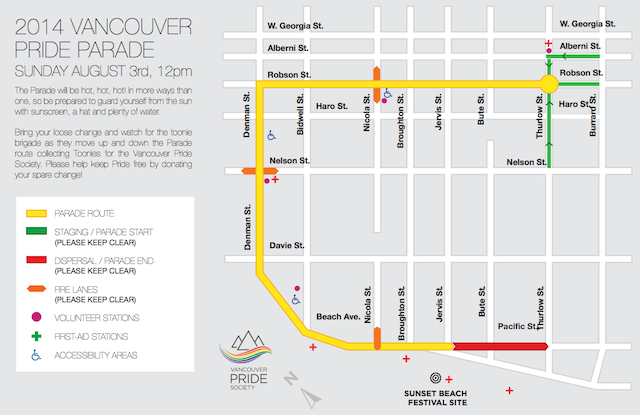 Click to View PDF
2014 Pride Parade Grand Marshals
The Pride Parade Grand Marshals are: "remarkable individuals who represent an inter-generational perspective on PRIDE, celebrating the people who have shaped its spirit with their passion for equality." This year they are Dean Nelson, Gwen Haworth, and ted northe (Posthumous Grand Marshal).
Vancouver Pride Parade Viewing Areas
You can find a spot on the curb along most of the route although it does get very packed, going about 8-10 people deep on some sidewalks. The starting points on Robson are frequently less densely packed as Denman, as the parade turns and heads towards the beach. You may also want to head toward one of the hosted locations: The Unstoppable Conni Smudge at Safeway on Robson; Caryl Dolinko at Denman Place Mall; and Joan E! at the Boathouse.
Vancouver Pride Parade Road Closures
Road closures will run anywhere between 8:00am and 4:00pm on Sunday, August 3, 2014.
Alberni Burrard to Thurlow 1000 block: 7:00am to 3:00pm
Alberni Bute to Thurlow 1100 block: 7:00am to 3:00pm Local Traffic Only
Robson Burrard to Bute 1000 to 1100 blocks: 7:00am to 3:00pm
Thurlow Georgia to Nelson 700 to 900 blocks: 7:00am to 3:00pm
Robson Bute to Denman 1100 to 1600 blocks: 10:00am to 3:30pm
Denman Robson to Beach 800 to 1200 blocks: 10:00am to 4:00pm
Beach Denman to Jervis 1300 to 1700 blocks: 10:00am to 4:00pm
Pacific Jervis to Burrard 1000 to 1200 blocks: 11:00am to 5:00pm
Vancouver Pride Parade Etiquette
Tips on being a good spectator from parade organizers:
Please stay off road – let marchers come to you to get free swag.
No spraying water or throwing object at entries. Their costumes and sound equipment is very expensive.
Use recycling and garbage bins provided around the venue. Help our event become zero impact.
Parking along the Parade route is extremely limited so leave your car at home and take transit to the Parade.
Open alcohol is prohibited on streets and parks so leave it at home. Come to the beer garden at Sunset Beach after the Parade and have a toast with us.
Remember to practice sun safety by wearing a hat, applying sunscreen, and staying hydrated.
Stay off the Parade route to give floats and marchers lots of room to move. Take all pictures from the side of the road.
Sunset Beach Festival
Following the parade there is the Sunset Beach Festival at the very end of the route: "This is a pedestrian event for the general public to come and enjoy the day, watch live performances on the main stage, sample great food at the food zone and dance to DJ's in the 19+ beer garden area."
The Vancouver Pride Society has all of the information you need to have a safe and happy Pride in Vancouver. Follow along on Facebook and Twitter along with the tags #VanPride + #PrideParade2014.