#WhatsTheLink is a series about all that TransLink, Metro Vancouver's transportation authority, is responsible for in the region. Join the conversation on Instagram, Twitter and Facebook. These guest posts are written by Robert Willis.

#WhatsTheLink: The Canada Line Pedestrian-Bicycle Bridge
Did you know that there are 200,000 crossings by trucks, cars, and buses over the Fraser River on TransLink bridges each day? Let me back up. Did you know that TransLink had bridges? And did you know that in addition to the 200,000 crossings by motor vehicles over the Fraser River, roughly 100,000 crossings a year happen by bike on one of these bridges! Yup, it's true.
Besides being responsible for transit, the Major Road Network as well as cycling and pedestrian options in Metro Vancouver, TransLink is also responsible for five bridges: Knight Street, Golden Ears, Pattullo, Westham Island and the Canada Line Pedestrian-Bicycle bridges.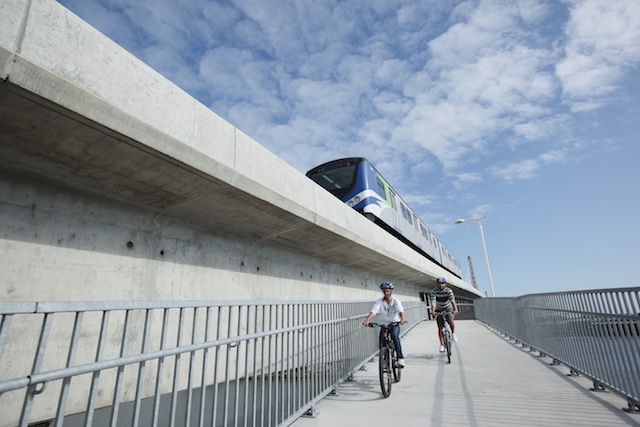 Have you used all five bridges? Since I've used all but the Canada Line Pedestrian-Bicycle Bridge before, I thought I'd pay it a visit to learn more about it.
It's amazing who you meet when you stand at the foot of a bridge, smile and ask for a few minutes of busy commuters' time. That's exactly what I did when I parked myself at the bottom of the ramp on the Vancouver end of the bridge in order to learn more about the bridge by asking people who use it.
Cycling Commuters
Josef is originally from the Czech Republic. A regular cyclist who doesn't drive and seldom takes the bus, Josef tells me he has been riding across the bridge nearly every day since it opened. I caught him commuting to work from Vancouver to Richmond.

Karen, like Josef, has been using the bridge since it opened. She recently started working in Richmond, so she has just started taking the bridge from Vancouver more frequently. A fair-weather cyclist, Karen will drive over the Oak Street Bridge when the rain pours but prefers cycling to driving, stating, "I'm in front of a computer all day, and cycling is my chance to enjoy the outdoors."

Heiror was using the bridge for the first time when he pulled up riding a borrowed, foldable bike. Living in Richmond for the last nine months on a scholarship in graphic design, Heiror was leisurely riding and taking photos along the bridge while he was making his way to his first day interning at a Vancouver studio.
One commonality between these three commuters was that they each told me that they enjoyed taking the bridge to work and found it to be a relatively easy ride.
In fact, commuting by bike between Vancouver and Richmond has been a whole lot easier since August 19, 2009, when the Canada Line Pedestrian-Bicycle Bridge officially opened. Connected to the side of the North Arm Bridge, the bridge carrying the Canada Line over the Fraser River, Canada Line Pedestrian-Bicycle Bridge has separated bike and pedestrian lanes. The bike lane also connects to cycling infrastructure in both municipalities making for a comfortable and picturesque ride.
Looking back at what these three commuters told me and what I already knew about the bridge before visiting it, I realized that over the nearly five years that the bridge has been open, it's become a permanent fixture in the lives of many Metro Vancouverites. It's also become a way for people visiting our beautiful piece of the world to get to know the region better.
Looking at the bridge in the larger context of our region, the Canada Line Pedestrian-Bicycle Bridge has become an important link to a larger TransLink enabled transportation network that connects cycling and walking to roads, bridges, transit, people and goods around Metro Vancouver.