There are many reasons to love Camilo Dominguez, aka Camilo The Magician. He's an incredibly talented magician who calls Vancouver home, he's hosting Magic Summer Camp, his shows often support local causes, and he's also the inspiration for Said The Whale's popular song.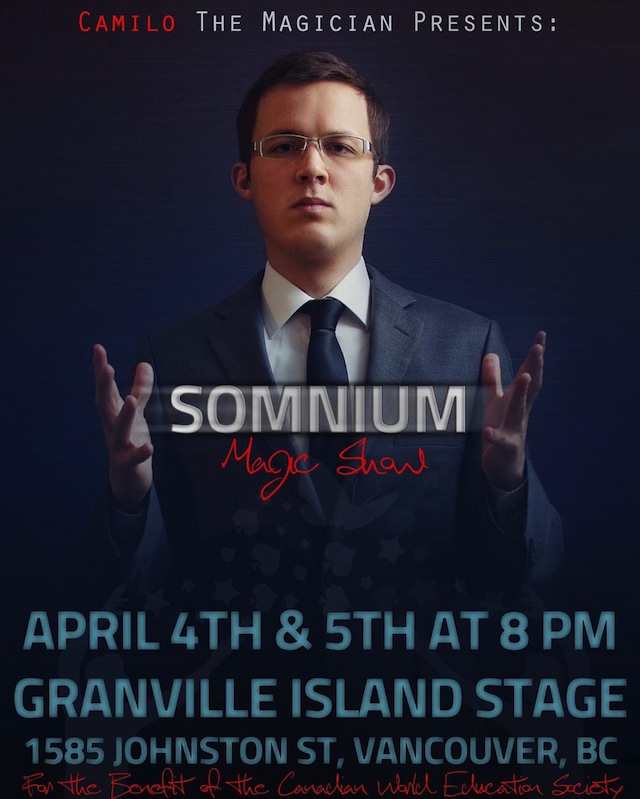 Born and raised in Colombia, Camilo Dominguez first discovered his passion for the art of magic at the age of four. Today, he is known for his unique approach; blending humor, and a charismatic and heartwarming personality with masterful agility. Using only his hands and a deck of cards, he aims to provide audiences with a truly original and intimate experience.
Camilo has studied at the New York Conservatory for the Dramatic Arts and has attended the Theatre History exchange program in London, England. He has been proud to present four headlining shows, including Unshuffled 2009, Fifty-Two 2010, Continuum 2011, and Continuum-Victoria 2011.
Camilo The Magician 2014 Tour
I was actually on stage for one of Camilo's shows at The Cultch a few years ago and I was completely and genuinely amazed at his charm and talent. He is heading out on his SOMNIUM Tour this April, starting with two shows in Vancouver then heading to Whitehorse, Victoria, and Bogota, Colombia. Camilo's shows on this 2014 tour will also support the Canadian World Education Society.
On stage at Granville Island in Vancouver April 4th and 5th, I have 4 pairs of tickets to give away to his SOMNIUM show on Friday, April 4th. If you would like to catch Camilo before he sets out on tour, here's how you can enter to win:
Leave a comment on this post (1 entry)
Post the following on Twitter (1 entry)
RT to enter to win tix to see @CamiloTMagician from @Miss604 http://ow.ly/uUAWZ
I will draw one winner at random from all entries at 5:00pm on Sunday, March 30, 2014. Find Camilo The Magician on Facebook, Twitter, and Instagram.
Update The winners are @copperlights, David, Jennifer, and @ryanexley Lana!