Over the next few days I will be profiling a handful of gadgets and tech gifts. Some will be a part of a general gift guide and others will include giveaways. They are all items that I have used (the giveaways will be brand new, just for the winners of course) and that I find useful.
Belkin Grip Power Battery Case Giveaway
I love my smartphone and all of the useful apps that I talk about when I get invited to join Dotto Tech's radio show however at this time of year the battery just drains at an expedited pace. Being on the go, checking email, taking photos of festive sights, running apps for shopping, parking, and productivity all mean that my battery isn't going to last very long after it charges overnight.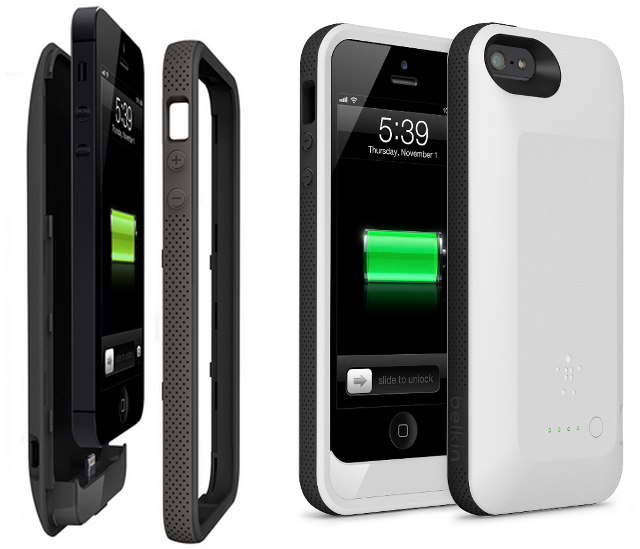 Fortunately the Belkin Grip Power Battery Case can keep you going, doubling battery life by providing a full, additional charge on the go.
The Grip Power Battery Case's rechargeable 2000 mAh battery capacity means you can talk, text and browse the web twice as long on one charge than with your phone alone. It's easy to use — just press and hold the power switch to turn the battery power on and off, and press it once to see the battery's status.
I have been using a similar battery case from another manufacturer and two things it does not have, that the Belkin does, is headphone compatibility and the shock-resistant bumper with secure-hold grip.
Other features of the Belkin Grip Power Battery Case (for iPhone 5 and iPhone 5s):
A Micro-USB charging cable: just plug the cable into the side of your case, and in one charging session, you'll have full iPhone power and backup power whenever you need it.
Putting on the Grip Power Battery Case takes just two simple steps: First, slide your iPhone 5 into the battery pack and connect it to the built-in Lightning connector. Then, snap on the outer shock-resistant bumper. In seconds, you're fully powered, fully protected, and ready to go.
The Anti-Glare Camera Ring doesn't get in the way of your camera flash, so you can keep on snapping great pictures.
If you would like to win a Belkin Grip Power Battery Case, here's how you can enter the draw:
Leave a comment here naming your favourite app this season (1 entry)
Post the following on Twitter (1 entry)
RT to enter to win a @Belkin Grip Power Battery Case from @Miss604 http://ow.ly/rIRKU
I will draw one winner at random from all entries at 12:00pm on Tuesday, December 17, 2013. Follow Belkin on Twitter and Facebook for more gadget gift ideas. The Belkin Grip Power Battery Case is for the iPhone 5 and iPhone 5s only and the prize is the white model.
Update The winner is Emilia!