Christmas at Hycroft has been a Vancouver tradition for over 40 years and it's kicking off the holiday season in style this weekend. Home of the University Women's Club, this elegant Edwardian mansion, rich with local history, serves as a beautiful venue for shopping and entertainment.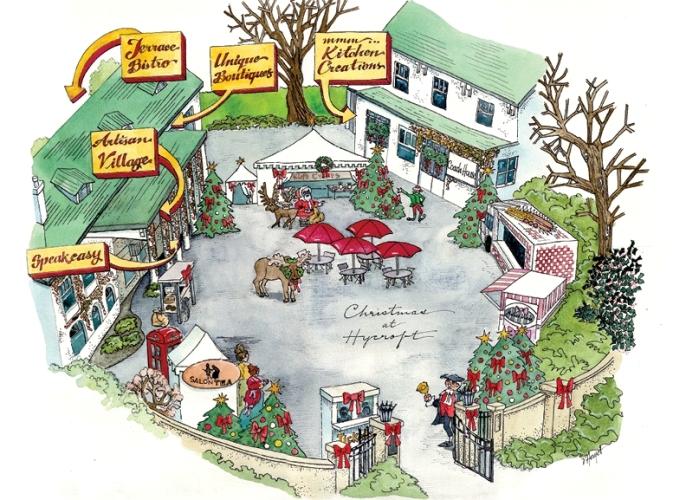 What: Christmas at Hycroft
Date: Thursday, November 21, 2013 to Sunday, November 24, 2013
Time: 11:00am to 9:00pm daily, Sunday 11:00am to 6:00pm
Where: Hycroft Manor (1489 McRae Avenue, Vancouver)
Tickets Admission is $13 for adults, $5 for children (5-11). Valet parking $5, complimentary coat check.
All three floors will be decorated for the season with boutiques and local artisans setup on the second floor. Lounge in the Speakeasy and take a break from shopping to enjoy homemade dishes, prepared by Executive Chef Walter Messiah, on the Terrace Bistro or to sip a Christmas Blend from Salon Tea.
Venture out into the courtyard for the children's craft tent, a visit with Santa, food trucks (mini doughnut, hot dogs, popcorn, fairy floss, chestnuts) and Kitchen Creations in the Coach House with Olde World Fudge and Tartine Tarts, preserves, Christmas puddings, mincemeat, lemon curd, renowned lemon lentil soup and freshly baked goodies like butter tarts.
Follow Christmas at Hycroft on Facebook and Twitter, along with the University Women's Club on Twitter for more information.
Regrettably due to the nature of Hycroft, only the main floor, coach house and courtyard are accessible to wheelchairs. Sorry no strollers permitted inside house, no food permitted inside the house, no smoking permitted in the house or grounds.