Caya is a sophisticated brand of boutiques powered by TELUS and they're stocking the shelves with great gadget-y gift ideas this season. With stores on South Granville, in Gastown, on Davie, and in the West End, they're offering stylish tech-savvy products that will not only be practical, but also look really cool.
Gift Guide

Fuji Instax Mini 50s Camera – $129.99 at Caya
This retro-looking camera offers stunning instant pictures. The film provides sharp, clear images with vivid colours and natural skin tones. You can capture holiday photos that fit right in your wallet.
Native Union POP Phones – $39.99 at Caya
A twist on the classic telephone, this accessory combines a vintage look with modern technology. It provides crisp sound and works with the iPhone and Android – so you'll have no problem keeping in touch with friends over the Christmas break. It's available in black, purple, lavender, pink and orange.
Charge N' Fruit Stands – Starting at $59.99 at Caya
These statues are the most decorative way to charge a device. Each fruit is designed to completely conceal the USB charging cable, just pull the cable through the bottom of the fruit. It's a statement piece and a clever nod to Apple's iPhone products, mixing functionality with personality while "juicing" up your cellphone.
Axis Wallet for iPhone 5 – $49.99 at Caya
The Axis Wallet for iPhone 5 is a genuine leather all-in-one phone case including custom molded phone bed with camera hole, three card slots plus additional cash storage. Protective cover with elastic closure. Pivot hinge provides a stand for widescreen viewing.
X-Mini II Capsule Speaker – $29.99 at Caya
The X-Mini II Capsule Speaker is petite in size but massive in sound. Hook it up to your mobile phone, MP3 player or laptop, and impress your friends with this pocket-size boom-box that pumps out tunes with crisp acoustics. It's available in a range of colours and is the perfect stocking stuffer.
Mophie Juice Pack Air – $79.99 at Caya
This is a great gift for socialites that are always on the phone. It's an award-winning, durable, ultra-thin case that houses a rechargeable battery and doubles your time to talk, surf or send, while also protecting your iPhone from every day wear and tear. You can enjoy up to 36 extra hours of audio and nine extra hours of video playback, in additional to the battery life of your iPhone.
Urban Ears Plattan Headphones – Starting at $69.99 at Caya
These full-size headphones allow for rich sounds in a compact body. They come with a ZoundPlug on the earcap, allowing a friend to plug in and enjoy your music too. There are two other types of Urban Ears available: Baggis headphones ($39.99) and Medis headphones ($59.99).
You can also pick up devices like the Samsung Galaxy S III, Samsung Galaxy Note II, HTC One™ X. To promote Caya's gift guide, they have offered up a prize pack for one lucky reader of mine.
Giveaway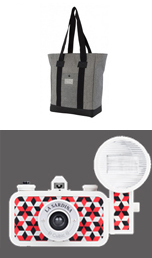 Hex Academy Laptop Tote –$84.99 at Caya
This stylish yet versatile tote bag has storage for your MacBook Pro (up to 15"), iPad and phone. With an additional general storage area and organizer, this water resistant, waxed reverse denim with surplus grade web straps truly has all of a Vancouverite's bases covered.
La Sardina Cubic Camera & Flash – 109.99 at Caya
Colourfully festive, La Sardina Cubic Camera & Flash lends a fresh retro look to old school photography. The wide angle lens and multiple exposure capabilities paired with a powerful flash will leave the paparazzi jealous. Caya can process your film and perhaps turn your creations into an amazing canvas print or photo book.
You can enter to win this Caya prize pack including the La Sardina Cubic camera and the Hex Academy Tote by:
Leaving a comment on this post (1 entry)
Posting the following on Twitter (1 entry)
RT to enter to win a @ThisisCaya prize pack from @Miss604 http://ow.ly/fSAd4
Follow Caya on Facebook and Twitter for product information year-round. I will draw one contest winner at random from all entries at 12:00pm on Wednesday, December 12, 2012.
Update The winner is Asha!