Holiday craft season is in full swing and Got Craft? is a must-see event if you love to shop handmade and shop local.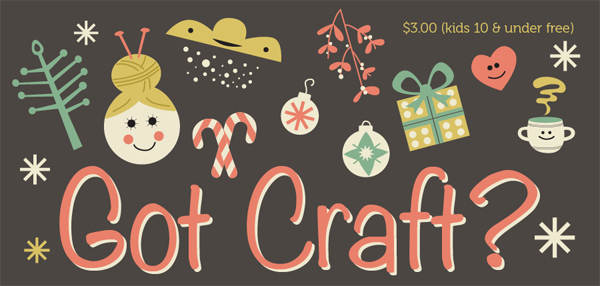 Got Craft? aims to bring together a community that fosters handmade and D.I.Y. culture. Founded in 2007, Got Craft? is held twice a year in May and December featuring 75 handmade designers, craft workshops, tasty treats, DJs, FREE swag bags, and an average attendance of 3000+ a year.
The vendor list grew by 45% for the holiday show, now featuring 80 artists who make everything from chocolate to cards and clothes, so that shoppers can buy themselves a present or knock everything off their holiday shopping list, all while listening to indie music.
Got Craft? will be at the Croatian Cultural Centre (3250 Commercial Drive, Vancouver) on Saturday, December 8th and Sunday, December 9th, 2012 from 10:00am to 5:00pm each day. Admission is $3 and children 10 and under are free.
100 swag bags will be handed out at the show featuring about 20-25 items contributed by vendors that include some of the items below:
Colouring book from MailChimp
Grow your own crystal kit from Camp + Quarry
Gift tag from cabin + cub
Soap sample from Simple Soap
Mineral bath crystals from Element Botanicals
Lavender screen printed Twig Prints ornament
Hair elastics set from Daub + Design
Felted ornaments from honey canada
Screen printed womens shirt from Sedated Clothing
Postcard, sticker, button set from Draw Me a Lion
Urchin Bags earrings made
Peace sign keychain from Jennifer Jones
Chocolate from Chef Kev
Sticky Spoon Greengage plum jam with chartreuse
Ceramic button from gabriEllephant Design
Pair of metal wire earrings from ebb and flo
Postcard set from Blue Spoons Paper Products
Original screen printed print by Robbie Vergara
Greeting card by The Beautiful Project
Snack pack food storage by Abeego
Pendant by Ravens Rest Studio
Card by Note + Emote
Button pack by Kove
Stick on mustache by mana jewelry designs
Candy cane by KT&Paul
Original button designed by The Tiny Fig
Magnet set by Firefly Notes
Gift tags by Fox & Fancy
Leather bookmark from Divinia Denuevo
Beeswax candle by Melifera Bees
Postcard set by think & ink studio
Milk chocolate chips by Urge Chocolate
Body balm by Queen Bee Luxuries
Felted bracelet by hold handmade
Origami ornament by Fiber Lab
Holiday card by Designs by Val
Hand knit bow tie pin by Pip & Pin
Hand wrapped ornament by My Little Lights
Button from Sheepish Grin Knit Company
How to tie a bow tie instructions by Belvedere
Card from Dani Press
Hair pin from Kohana Jewellery
Brown sugar heart from Just Potters
Tealights from Delish Magazine
Soothing milk and honey bath from Feest
Granola from Granola Girl
Letterpress card from Sam Bradd
Yogurt starter kit from Homesteaders Emporium
Hand stitched fabric greeting card from hay-oh
Measuring tape from Knit Social
Pair of lego cufflinks from Nostalgic Links
Gift tags from Fair JAKE
Leather bookmark Frankenstrap
Fabric from Vancouver Modern Quilt Guild
Hand painted wood angel pin from The Rice Babies
Button set from A Cagey Bee
Chain ring and voucher from TOODLEBUNNY
Felted rose pin from Carmen West Creative
Glass pendant from GroovyGlassGirl
Button from LanaBetty
DIY birthday kit from Bake Sale Baking Co
Vintage beads from Irit Sorokin Designs
Santa button from the pauhaus
Metal spike charm from Solder + Punch
Mystery gift pack from foe + dear and BuenoStyle
Swag from A Farmers Daughter, Creampuff by GG
Swag from Tiny Mr.
Macaron from Kawaii Eats
Mini thermometer from Make Cheese Inc.
Chocolate from My Chocolate Tree
Mini terrarium from Plants capes
If you would like to check out Got Craft? I have a 4-pack of tickets to give away. My contest winner will also receive one of the coveted Got Craft? swag bags AND these special items:
BuenoStyle necklace, note cards from Think & Ink, wool bowl from Hold Handmade, letterpress cards from Sam Bradd Designs, earrings from Irit Sorokin Designs, panties from Daub and Design, Sheepish Grin Knit Company yarn, granola from Granola Girl, a Selena Boer calendar, dani press stationery, items from Robbie Veraga, Knit Social, Belvedere Gents, Queen Bee Luxuries, Pip & Pin, Vancouver Modern Quilt Guild, Chef Kev, Elements Botanicals, Marian + Hazel, Sedated Clothing, Nostalgic Links, Delish Mag, Draw Me A Lion, The Beautiful Project, Bake Sale Baking Co, Honey Canada, Hay-Oh, and Twig Prints.
Here's how you can enter to win tickets and this gigantic gift bag giveaway:
Leave a comment on this post (1 entry)
Post the following on Twitter (1 entry)
RT to enter to win #GotCraft tickets & a super swag bag from @LotusEvents & @Miss604 http://ow.ly/fwFFs
I will draw one winner at 12:00pm on Thursday, November 29, 2012. Follow Got Craft? on Facebook and Twitter to learn more about the market.
Update The winner is Mary T!