In case you're wondering why Robson and Granville has been so busy with construction lately, there is a large project underway.
This involves an overhaul of the Power Block at 817-819 Granville, where Charlie's Music was located. The building (circa 1888 rear & 1929 front) is designated a category "B" heritage building so its art deco facade is protected under a Designation By-law (circa 1976). The facade will remain intact as a new structure gets built behind it according to Heritage Vancouver.
That new structure will also take over the space right next to it, immediately on the corner of Robson and Granville. The fate of the current building at 720 Robson is looking grim at the moment. Gutted, taped, and boarded, it's getting ready to come down completely.
720 Robson is not on the heritage reigster so it will be completely demolished. It used to house Granville Optical (on the corner), True Value Vintage, Hitz Boutique, and more.
The development proposal, for the building that will slip around behind 817-819 Granville's facade as well as take up 720 Robson, is for a five storey building with two storeys of retail and three storeys of office space. This will sit above two levels of underground parking, accessible from the back lane.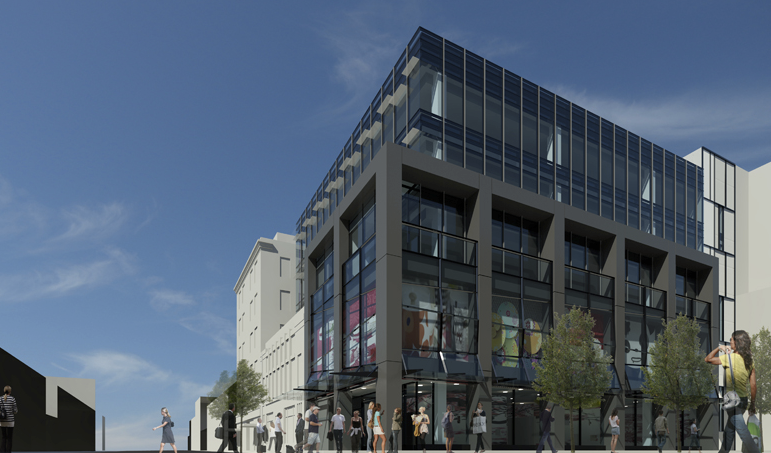 According to the City's Urban Design Panel ("UDP") minutes, the developer wanted to achieve LEED Silver status with the new building but the City recommended going for LEED Gold — Leadership in Energy and Environmental Design ("LEED") being the Canadian standard for green building. Other recommendations were made by the UDP including the addition of a green roof.
Rumours have been flying around about what might move into this space (and HMV's old space on Burrard and Robson) and they all involve major American retailers.
Update February 2012 Here's the latest shot of the building coming down. You can spot an old painted advertisement on the side of Charlie's.