Over the years a few Presidents of the United States of America have visited Vancouver. Whether it was during the depression or war years or for speaking engagements after their terms. In 130 years the Commander in Chief has been no stranger to our city, although some visits have been few and far-between.
American Presidents and Vancouver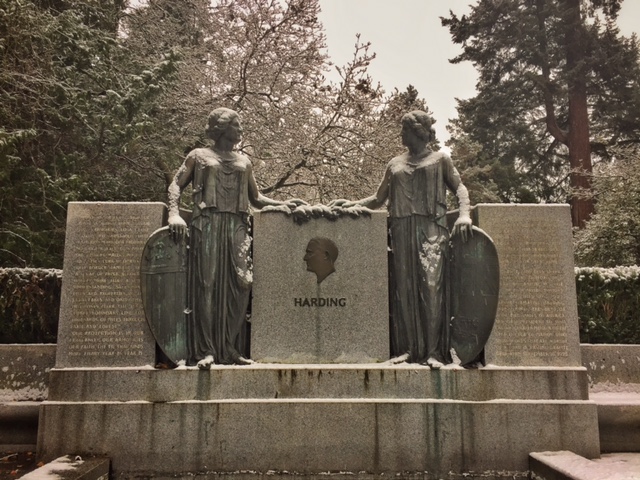 Harding
You may have noticed a very grand dedication to Warren G. Harding in Stanley Park. In 1923, he was the first sitting President to come to Vancouver. He spoke at a luncheon at the Hotel Vancouver and to a crowd of 50,000 in Stanley Park. One week later, in San Francisco, Harding passed away and Vancouverites were stunned. The Kiwanis Club started a campaign to get a memorial put up in Harding's honor, in the place that he spoke in Stanley Park. Charles Marega (Caption George Vancouver statue at City Hall, Joe Fortes Monument in the West End) was commissioned for the piece.
Roosevelt
In July of 1915, Teddy Roosevelt and his wife were on a train that would pass through Vancouver, where they were going to catch a boat to Seattle. According to Vancouver History: "The Vancouver Board of Trade had formed a welcoming committee to greet the Roosevelts, who would arrive at the CPR station. The Board, unwisely, had not included Mayor Louis D. Taylor in the delegation. (They didn't like him.)"
As a result, Taylor (for whom Taylor Way is named) hopped on the train in Port Coquitlam to welcome the pair on his own. He was even the first to step off the train in Vancouver and introduce the Roosevelts to the crowd that waited. As the story goes, he took them for a quick spin around Stanley Park before dropping them off at their ship. The source of this story is Daniel Francis' book L.D.: Mayor Louis Taylor and the Rise of Vancouver.
The First Lady also left an indelible imprint on Doreen Reitsma, who worked at the Hotel Vancouver at the time of the couple's visit. After a conversation with Eleanor Roosevelt about pursuing dreams, Reitsma made history as the first to enlist in the new Women's Division of the Royal Canadian Navy.