Decorations are up, the local slopes are ready for ski season, and Santa's parade route is set. The holidays are here already. Before the long check-out lines, arms full of bags, and jockeying for parking spaces run you down, there is relief in sight. Park Royal is once again hosting Starry Nights. On November 22nd and 29th you can purchase a ticket to an exclusive shopping experience with stores at Park Royal being open after-hours just for participants.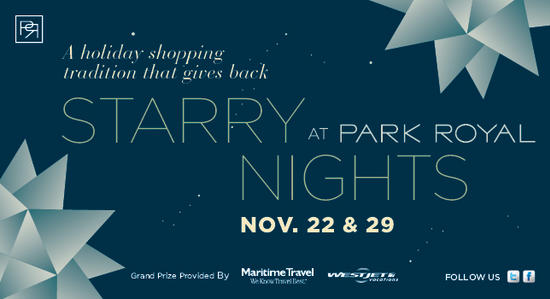 You can shop exclusively at Park Royal North on Tuesday, November 22, 2011 from 7:30pm to 11:00pm and at Park Royal South on Tuesday, November 29, 2011 from 7:30 to 11:00pm. Tickets to have your run of the mall are just $10, proceeds from which will be donated to North Shore charities. Last year, Starry Nights raised over $10,000 for local organizations.
This after-hours shopping experience also comes with great deals like 25% off at Bellissima, 40% off everything at Change, 30% off at Dunn's Tailors, 30% off at Ingledews, and you can pick up a $100 travel gift card at Maritime Travel for just $50. A full list of participating retailers and their specials for Starry Nights is available online.
You can get a $10 ticket for one night or a $15 ticket for both nights from guest services or directly through local charities (all listed at the bottom of this page). Each will have a wine and cheese lounge, jazz music, catering, free cupcakes, chocolates, carolers, and more. It will be the ultimate holiday shopping experience with plenty of comforts and no rushes.
Park Royal has once again offered up a great giveaway for my readers. I have two grand prizes available that include two tickets to both Starry Night dates as well as a $100 gift certificate good for any Park Royal retailer. I also have five two-night tickets available as secondary prizes. In total that's seven two-night passes and $200 in gift certificates!
Here's how you can enter to win one of these great prizes from Park Royal's Starry Nights:
Leave a comment on this post naming a Park Royal retailer (1 entry)
Post the following on Twitter (1 entry)
RT to enter to win #StarryNights passes & $100 to @ShopParkRoyal from @Miss604 http://ow.ly/7ogg0
I will draw two grand prize winners and the five secondary winners at 10:00am on Wednesday, November 16, 2011. The winners will be able to pick up their tickets and prizes at Park Royal guest services before Starry Nights or on the night of the event.
Update The two grand prize winners are: Leanne & Sundeep. The five secondary prize winners are: @natalievana, Rick, @_joeycheng, Elisabeth & Kevin.