The results of the Georgia Straight's 2011 Best of Vancouver are now in and I'm very thankful to all who have once again voted Miss604.com Best Local Blog for the third year in a row, and Best Local Twitterer for the second.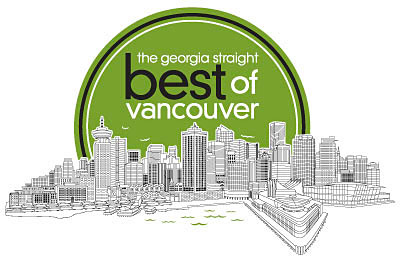 Best local TV personality (English): Dawn Chubai and Riaz Meghji (Citytv)
Best local performing-arts festival: Vancouver International Fringe Festival and Bard on the Beach Shakespeare Festival
Best local theatre company or theatre production: Arts Club Theatre Company
Best local dance company: Ballet B.C.
Best local street/community festival: Car Free Days
Best afternoon radio host(s): James Sutton (The Peak)
Best late-night radio host(s): Cory Ashworth and Laurie Logan (The Peak)
Best local band (signed): Mother Mother
Best restaurant/café with free Wi-Fi: WAVES Coffee House
Best locally brewed beer: Granville Island Honey Lager
Best patio: Local Public Eatery
Best restaurant to take out-of-town guests The Sandbar
Best kid-friendly restaurant: White Spot
Best B.C. wine/winery (red wine): Burrowing Owl Estate Winery
Favourite Canucks player: Ryan Kesler
Favourite B.C. Lions player: Geroy Simon
Favourite Whitecaps player: Jay DeMerit
Favourite Vancouver Canadians player: Drew Permison
Best wedding photographer: Blue Olive Photography
Please check out the full list of winners in all categories courtesy of the Georgia Straight.
I'd like to add in a few shout outs. The first being to Vancouver is Awesome who I had the pleasure of sharing the Best Local Blog title with last year. It's is a fantastic resource for unique events, community news, and over a dozen informative, quirky, and loveable features from a cast of authors. VIA is an official non-profit society to boot. Be sure to check out their latest addition, Whistler is Awesome as well.
Second, here's to the food bloggers in Vancouver who have come on the scene and provided us all with drool-worthy photos and tantalizing write-ups for everything from our finest gourmet offerings to finger-licking food carts. A few suggestions for you to follow would be Follow Me Foodie, Sherman's Food Adventures, Gourmeted, and Gourmet Fury (just to name a few, there are many great ones out there). Also, if you haven't yet tried Erin Ireland's banana bread, you should get over to Commune Cafe and pick up a loaf as quickly as possible.
Last but not least, my readers help me promote local non-profits, organizations, and community services along with sharing information about our city, then and now. You are a very generous bunch and I thank you for your continued support, and for your votes again this year.