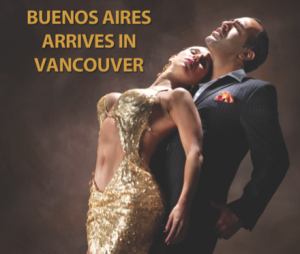 Next month dancers and musicians from around the world will spice up Vancouver during La Garufa International Tango Festival.
Argentine tango is a social dance and musical genre that originated in Argentina and Uruguay in the late 1800s. Recently it was designated by UNESCO as a world cultural heritage and important to preserve.
In the social tango, there is a special connection between partners as it is all based on improvised steps. It is a conversation between partner using the body instead of voice. Tango can be danced by people of all ages from 8 to 88. In fact, studies have shown that Argentine Tango can increase memory, multi-tasking skills, self-esteem, balance and motor coordination in seniors — and more fun than Suduko puzzles
You can learn to dance, watch the pros, and enjoy live music at the festival from September 8 to 11, 2011.
Artists
Claudio Villagra & Romina Levin (Maestros from Buenos Aires)
Ruben & Sabrina Veliz (Maestros from Buenos Aires)
Gustavo Rosas & Gisela Natoli (Maestros from Buenos Aires)
Sexteto Milonguero (Buenos Aires)
Lorena Bouzas (DJ, Buenos Aires)
Meng Wang (DJ, Vancouver)
Workshops
The quality and esthetics of the movement.
Forgotten steps and figures of the '40s and '50s.
Navigation on the dance floor. Walking, turns and traspies.
Milongas (Where the tango is danced)
Opening night September 8, 2011 from 9:00pm: "Blue & White Night" with live music by Sexteto Milonguero & performances.
Wine Tasting Night September 9, 2011 from 9:00pm
La Noche De La Garufa September 10, 2011 from 9:00pm with an All‐Night Milonga from 1:00am to 5:00am A Media Luz, 2155 Commercial Drive @VancouverTango on Twitter.
Tickets to hear, learn, watch, and be entertained by the artists start at $30 and are available online now. All events are at the Croatian Cultural Centre (3250 Commercial Drive). I also have a special prize package to give away to a reader.
The prize package
2 tickets to "Introduction to Tango" with instructor Angel Coria at the Croatian Cultural Centre followed by admission for 2 to the opening night milonga featuring performances by Sexteto Milonguero and 3 dancers (just across the hall). I have been asked to note that it's not just a concert. It will be a night of music and dance in which you can (and are encouraged to) participate. Dancers from around BC and the Pacific Northwest will be cheek-to-cheek at this opening night party.
Whether you love to dance already, want to learn, or just want to get closer to that special someone, here's how you can enter to win this prize:
Leave a comment on this post about why you want to learn to tango (or why you tango already) (1 entry)
Post the following on Twitter (1 entry)
I entered to win a tango prize pack from #LaGarufa International Tango Festival & @Miss604 http://ow.ly/6fKMs
I will draw one winner on Friday, September 2, 2011 at 10:00am.
Update The winner is Reen!