Early Music Vancouver (EMV) and the Vancouver Chamber Choir (VCC) celebrate the festive season with the highly anticipated return of Handel's Messiah at The Orpheum – and you can enter to win tickets!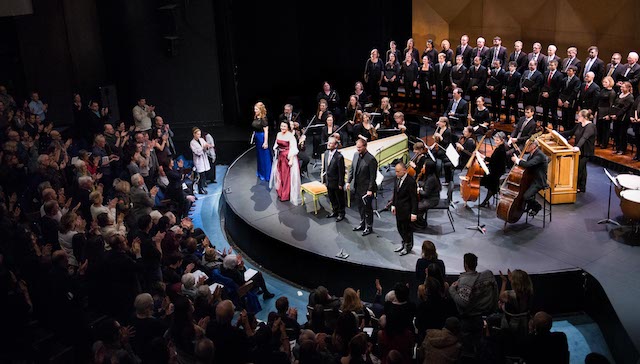 Handel's Messiah Holiday Concert in Vancouver
Date: Friday, December 8, 2023
Time: 7:30pm
Address: The Orpheum (601 Smithe St, Vancouver)
Tickets: Available online now.
From $20-$69

Under age 35: 35% off regular priced tickets; free tickets for Indigenous persons; $10 Student Rush tickets at the door, based on availability
EMV's in-house orchestra, the Pacific Baroque Orchestra, and the Vancouver Chamber Choir will come together to delight audiences in this glorious masterwork, led by celebrated conductor Alexander Weimann. They are joined by four internationally acclaimed soloists: soprano Sherezade Panthaki, alto Allyson McHardy, tenor Nicholas Scott, and bass Jonathon Adams – each of whom will perform from memory, thereby enhancing the story-telling side of this glorious work.
EMV and the Vancouver Chamber Choir's rendition of Handel's Messiah offers an intimate, baroque styling of the seasonal favourite, reminiscent of the period instruments and display of virtuosity with which Handel would have been acquainted. Featuring an orchestra of 21 period instrumentalists, a chorus of 24 chamber vocalists, and four international soloists specializing in baroque ornamentation performance practice, audiences will be transported to the concert halls of 18th century England, further illuminating the transcendent legacy of this universal treasure.
Written by the composer in just 24 days, Handel's Messiah has been performed around the world for centuries. In Canada alone, Messiah performances date back to St. Paul's Anglican Church in Halifax in 1789 – evidence of the timeless resonance of this work! The triumphant "Hallelujah Chorus" is so recognizable and beloved, it is now synonymous with this work, and with the season at large.
Win Tickets
Win Tickets to Handel's Messiah in Vancouver
Follow Miss604Holidays this season for the latest arts and culture activities, attraction and event news »