When the state-of-the-art jumbotron at BC Place was installed during its renovations a few years ago, it was compared to "the size of a Yaletown apartment". That thing is HUGE. Now it's got a chance to shine in a new light when it shows more than in-game programming. On October 19th, join Kids Up Front Vancouver at BC Place for a fun family movie night.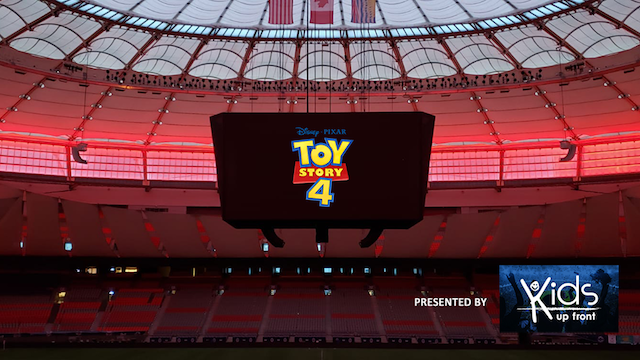 BC Place is Hosting a Movie Night
Where: BC Place Stadium in Vancouver
When: Saturday, October 19, 2019

5:00pm – 6:15pm: On Field Activities
6:30pm – 8:00pm: Toy Story 4 Viewing

Tickets: Available via Ticketmaster. $50 Family/Friend Pack (four tickets), or $15 for individual tickets.

Each ticket purchased includes entry to the movie, plus one hotdog, one soft drink, one popcorn PLUS each ticket purchased donates a second ticket for a kid to experience movie night.
Continue reading this post 〉〉