As any Vancouver Canucks fan can tell you, attending a home game at Rogers Arena isn't always as fun and exuberant as the 8-1 romp over the Edmonton Oilers in the October 11 season opener. It's hockey. The final score is never guaranteed. However, renting a fully catered suite at this 18,910-capacity venue is one way to virtually guarantee a winning night out. Here's a snapshot to envision what it's like.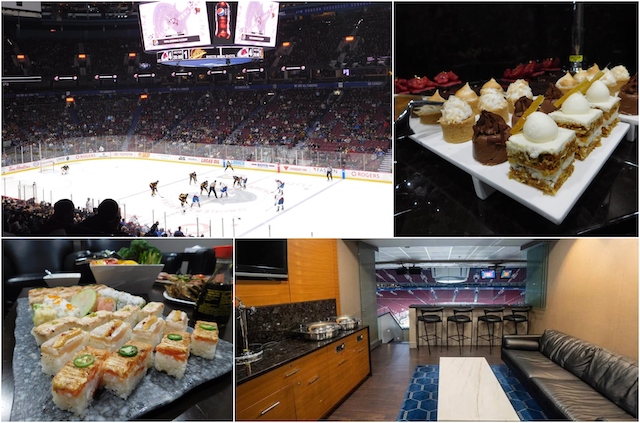 The Suite Life at a Vancouver Canucks Hockey Game
Flash back to January 20, 2023. The Canucks are in turmoil. Facing the Colorado Avalanche, they're heading for their ninth loss in 11 games. Coach Bruce Boudreau is about to get canned and replaced by Rick Tocchet after weeks of rumors.
Yet life is pretty sweet in suite 245 at Rogers Arena. Rocky Mountaineer, a luxury railway company headquartered in Vancouver, is holding an event to showcase their product to local travel journalists in the 20-capacity corner suite on Level 200.
A lavish spread of sushi, cold cuts, veggies and dip, and cheeses greets attendees on arrival. The fridge is packed with Stella Artois and Budweiser beer cans. Wine drinkers can pour a glass of 2019 La Crema Monterey Pinot Noir or 2021 Joie Farm Noble Blend.
Superficially, Rogers Arena might seem like a random choice to host this particular event. After all, you don't see a lot of trains around an NHL game. Unless, say, you count Colorado forward Valeri Nichushkin's nickname ("Choo Choo Train") or the SkyTrain that many Canucks fans take downtown.
However, coming to a Canucks game was no accident, according to Rocky Mountaineer spokesperson Dallas Carlson.
"We've previously hosted similar events when the Canucks played in U.S. markets like Los Angeles and New York to connect with travel media in those cities," Carlson says. "Our newest train route, Rockies to the Red Rocks, was launched in 2021. It travels between Denver, Colorado and Moab, Utah. So we thought this was an opportunity to bring media together to learn about what's new at Rocky Mountaineer while watching the Canucks take on our new hometown team, so to speak, in the Colorado Avalanche."
The suite provides a relaxed environment for networking with two rows of leather seats (14 in total) where you can eat and watch the game. Large black leather armchairs, bar stools and counters, and a big TV adorn the area.
Companies that have rented suites at Canucks games over the years run the gamut from corporate giants like IBM and Sun Life Financial to BC construction companies like Powell River's Adams Concrete Ltd. and Surrey's Crystal Consulting Inc.
There is a wide range of pricing, based on suite sizes, days of the week, and the attractiveness of the Canucks' opponents. For instance, for this Friday night game against the then-defending Stanley Cup champions, suite 245 costs $7,140* to rent. (For the current season, the nearest equivalent package – a Thursday night showdown with the Vegas Golden Knights on November 30 – has been hiked to $7,560*.)
That pricing does not include the cost of food and beverages. In 2023-24, for a group of 14 suite occupants, you can pre-order a casual food package (pizza, cheeseburger sliders, chocolate chip cookies, etc.) for $825* or an upscale package (tiger prawns, grilled meats, macarons, etc.) for $1,585*.
Here at the first intermission, arena staff brings in a ramped-up, à la carte spread with steak, roast potatoes, cooked vegetables, Arctic char fish with mushrooms, and ravioli.
The eight invited journalists include the likes of Claudia Laroye, a Globe and Mail contributor who recently published a family travel anthology entitled A Gelato a Day, and Jonny Bierman, whose work has appeared in Conde Nast Traveler and Afar.
Overall, this isn't an ensemble of hardcore hockey fans. Nor are there PowerPoint presentations and press release handouts from the four Rocky Mountaineer representatives. It's a "soft sell" approach based on one-to-one conversations rather than a "hard sell."
Nobody in the suite evinces open distress as the Canucks trail by three goals through two periods, although the chanting of "Bruce, there it is!" in honour of Boudreau elicits sympathetic comments.
Some of these journalists contribute to publications as far away as Malaysia, the United Kingdom, and Germany. And of course, Vancouver's roster has featured German stars like Christian Ehrhoff and Marco Sturm in the past. Yet even though the Canucks are a Deutschland-free zone right now, Rocky Mountaineer has strong ties to Germany.
"Pre-pandemic, Germany was our second-largest market in Europe, after the UK, and we expect it will continue to be a strong market for us this year," Carlson notes. She cites the "epic nature and scenery" that Rocky Mountaineer's routes include as a major draw for German travelers.
The company's 2019-launched GoldLeaf railway carriages with dimmable domed windows were designed by the Swiss rail car company Stadler, but constructed at their facilities in Berlin. The luxurious nature of riding in those carriages isn't too far removed from the Canucks suite experience.
After Colorado wraps up a 4-1 win, the journalists stick around to continue networking over drinks. Some will return when Travel Oregon hosts another media event in a Rogers Arena suite during a game against the Nashville Predators on March 6. The suite life remains ever-popular.
*prices listed are those available at time of publishing