The IndigE-Girl Comedy series brings their wildly popular stand-up comedy series to the Biltmore in Vancouver this month. The Airing of Grievances features a brilliant all-Indigenous cast of female and two-spirited comedians including Canada's Drag Race Star, Chelazon Leroux.
IndigE-Girl Comedy Presents The Airing of Grievances
Date: Tuesday, November 28, 2023
Time: 7:00pm and 9:00pm performances
Location: Biltmore Cabaret (2755 Prince Edward St, Vancouver)
Tickets: Available online now for both shows and the livestream.
The Indige-Girl Comedy series continues to skyrocket in popularity following six sold-out tour dates across Canada since the series debut in Toronto.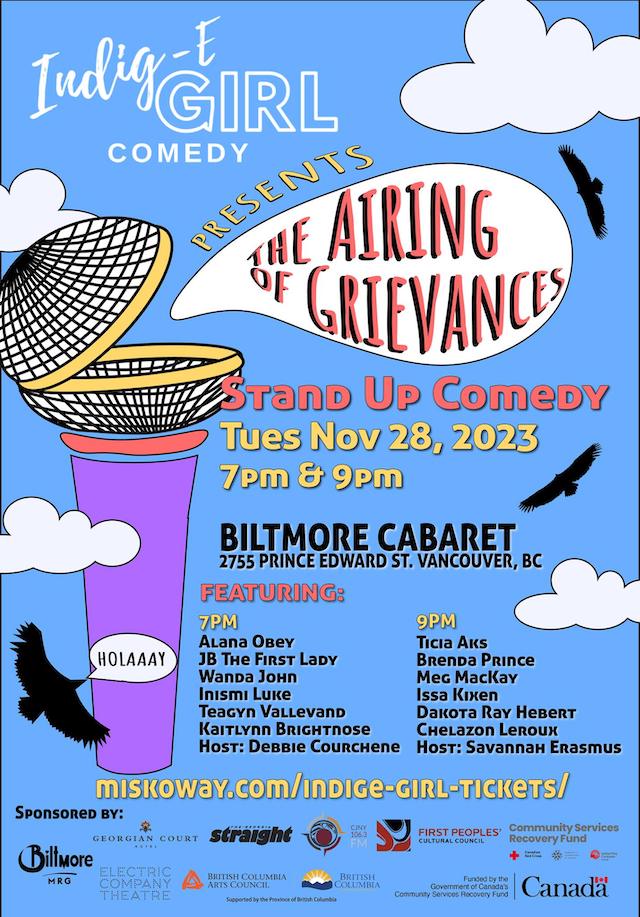 "Indigenous identity has too often been framed within the context of residential schools and colonialism. In this performance, our aim is to illuminate the enduring joy, laughter, and humour that have always enriched Indigenous culture," says Debbie Courchene, the visionary behind IndigE-Girl Comedy and the driving force at Miskoway Productions.
"Our showcase is a bold step towards dismantling the barriers that have held back Indigenous comedians, allowing them to hone their comedic skills. Through a diverse blend of established, emerging, and up-and-coming talents, we aspire to cultivate a supportive community that empowers Indigenous women and the LGBTQA2S community to thrive in the world of comedy."
In addition to the two Vancouver performances, the show will also be live-streamed to ensure audiences in remote communities across Canada and beyond can see these rising Indigenous stars perform their latest stand up comedy sets.
7:00pm Hosted by Debbie Courchene and featuring: Alana Obey; Wanda John; Inismi Luke; Teagyn Vallevand; Kaitlynn Brightnose; and JB The First Lady.
9:00pm Hosted by Savannah Erasmus and featuring: Ticia Acks; Brenda Prince; Issa Kixen; Meg MacKay; Dakota Ray Hebert; and Chelazon Leroux.
This performance is for an age 19+ audience. Parental discretion is advised for the live stream.
Win Tickets
I have a pair of tickets to give away to the 9:00pm show on November 28th. Here's how you can enter to win:
Win Tickets to The Airing of Grievances