Get ready to unwrap a bundle of laughter and festive cheer as The Improv Centre (TIC) hosts its holiday and New Year's Eve programming from November 23 to December 31, 2023.
Holiday Comedy at The Improv Centre
Where: The Improv Centre (1502 Duranleau St, Vancouver on Granville Island)
Tickets: Starting at $26.50, available online now or in person at the TIC Box Office.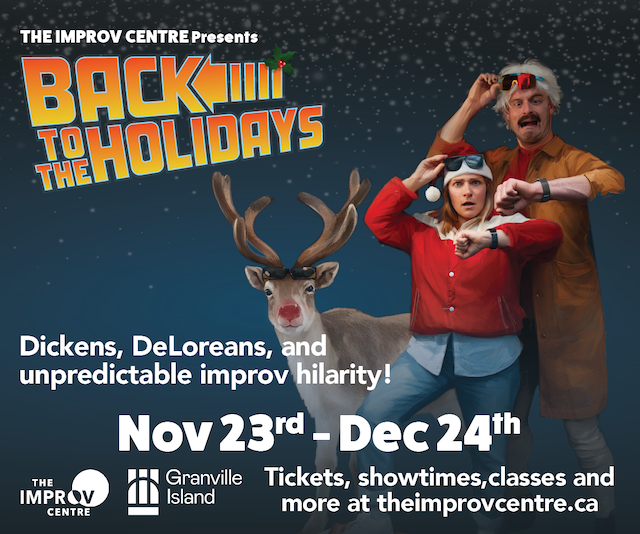 Holiday Fun
Dates: November 23 to December 31, 2023
Times: Thursdays to Saturdays at 7:30pm; 2:00pm matinee December 17th & 24th
Back to the Holidays is a fun, family-friendly show! From Scrooges to Grinches and Krampuses to Hans Grubers, there's something inherently funny about holiday cynics who begrudgingly give in to seasonal merriment. An homage to Back to the Future and A Christmas Carol, the show explores holidays of the past, present, and future through the lens of an eccentric scientist who is tasked with helping our hero discover the true meaning of the holidays and save the town from ruin.
Year in Review
Date: December 27 to December 30, 2023
Times: 7:30pm
Celebrate this past year with 2023 and Me. Whether it was the best, worst or middling year of your life, this show will be a delightfully therapeutic "thank you!" or "**** you!" to 2023. Audience members can share with us what made this year unique, fantastic or a total dumpster fire, and watch TIC ensemble members recreate those experiences – and maybe even rewrite history.
New Year's Eve
Date: December 31, 2023
Times: 7:00pm, 9:00pm, and 11:15pm
Finally, join TIC in bidding adieu to 2023 with libations and laughter at NYE at TIC. There's no time like the holidays to shed the dread and spread kindness. NYE at TIC is an evening filled with fun, frivolity, and fabulously funny improv comedy as we count down to 2024. Tickets for this performance also include full access to a dessert bar and photo booth.
Book your tickets for these shows today and follow The Improv Centre on Facebook for the latest news about their shows this season.
Follow Miss604Holidays this season for the latest arts and culture activities, attraction and event news »