Join Dress for Success Vancouver (DFSV) for their 11th annual luncheon on November 21st. Presented by BlueShore Financial, this event supports Dress for Success Vancouver's work to empower women into good jobs, financial independence and personal success.
This years theme of the 11th Luncheon is building success, paying tribute to the clients who arrive at DFSV programming with a foundation and desire to build a solid future.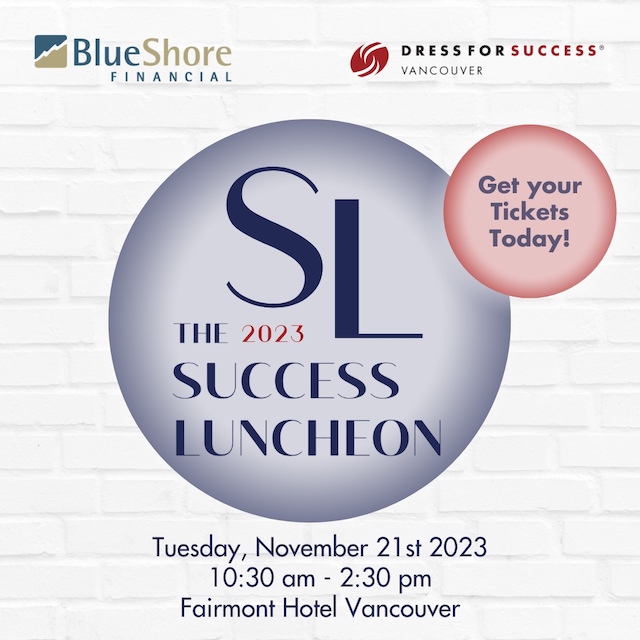 Success Luncheon 2023
Date: Tuesday, November 21, 2023
Time: 10:30am to 2:30pm
Location: Fairmont Hotel Vancouver (900 West Georgia St, Vancouver)
Admission: Tickets are available for purchase online.
This celebrated luncheon commemorates the work of the Dress for Success Vancouver community spanning new and long-time sponsors, supporters, ambassadors and champions. Hosted by CBC's Michelle Eliot, the luncheon will feature the journey and passion of this year's client Inspiration Award winner, Kate Brunger.
In addition to lunch, speakers and the award presentation, guests will network, participate in the silent auction and wall of wine fundraiser, visit the onsite professional headshot studio and purchase raffle tickets to win a variety of local and luxury prizes, travel and experiences.
The coveted Market Hall returns this year, with an exclusive shopping experience featuring jewellery, luxury fashion, home goods and gifts by local, women-owned retailers.
About DFSV
Dress for Success Vancouver is a registered charity committed to empowering women in our community into employment, financial independence, and personal success. An affiliate of the international organization, Dress for Success Vancouver was established in 1999 as the first international affiliate and has served over 41,000 women in the Lower Mainland.